DOOM Ported To Palm Pre, Is Hardware-Accelerated
Thursday, December 31, 2009 4:48:20 AM

My oh my. There have been many hints and clues in these closing weeks of 2009 that GPU support for the Palm Pre is much, much closer than expected, but until now there's been nothing in the way of concrete proof. That all changed with the recent release of webOS 1.3.5, which zsoc (of Precorder fame) and destinal (who made the webOS Terminal) from WebOS Internals have been poring over today. And what they've discovered is starting to give us a pretty good idea of what Palm has planned for their upcoming 2010 CES appearance: hardware-accelerated graphics for webOS, via SDL.
What's SDL? It stands for Simple Directmedia Layer, and as the website will tell you, it's a cross-platform software library that enables low-level hardware access - which as of version 1.3.5 appears to have been baked into webOS's Luna framework. And what better way to test this new functionality than with a port of iD's seminal shooter, the legendary DOOM? zsoc was able to throw together a webOS port of the game today, and although it currently requires a bit of Terminal trickery to get it running, the proof is in the pud: behold the screenshot after the break! DOOM, running within a webOS Mojo-ized card and fully controllable via the keyboard. Brings a tear to the eye, it does.
Updated with video after the break!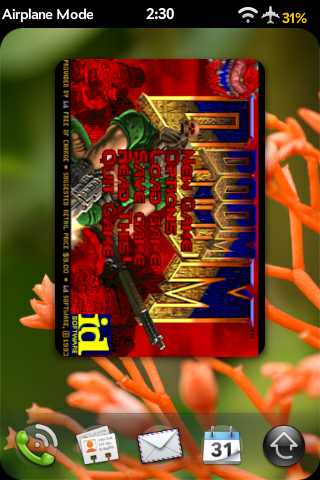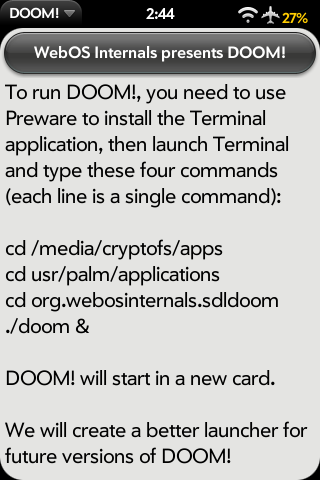 Special kudos are also due to our good friend and benefactor Rod Whitby, who packaged the app for installation. Interested folks can download it for yourself (so long as you have webOS 1.3.5) via Preware. You'll also need a copy of the original doom.wad file actually, it's included in the download.
Article Comments
(28 comments)
The following comments are owned by whoever posted them. PalmInfocenter is not responsible for them in any way.
Please Login or register here to add your comments.