AT&T webOS Devices Preview from CTIA
Tuesday, March 23, 2010 12:35:00 PM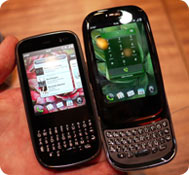 In what is the first hands-on with "new" Palm handhelds since the Pre Plus and Pixi Plus launched with Verizon two months ago, Engadget has posted pictures and impressions of their first encounter with the AT&T 's first WebOS devices direct from CTIA.
In a nutshell, very little has changed from the recently-launched Verizon versions. Engadget reports the performance of both version, including the usually sluggish Pixi , as being "relatively zippy". No word if this is due to the speed boost received from webOS 1.4 or a newer build on these GSM variants. In fact, Engadget does not even mention which build of WebOS was on their demo units. None of the images in Engadget's photo gallery showcase any of the new AT&T specific software found on these new devices, as we learned yesterday.
The physical center button found on the original Pre is still absent on the GSM Pre Plus and the new blue Touchstone cover for the Pixi was not in attendance for this photo session. There is an image of an interesting-looking dimpled Pixi back cover that does not match the smooth cover standard on its Sprint and Verizon predecessors. This looks like it might provide a more secure grip with sweaty hands or it could just be purely for cosmetics. Otherwise, there's very little to report cosmetically.
PreCentral.net has also posted their impressions from some hands-on with the AT&T WebOS phones. The blue Pixi back cover is pictured several times and looks rather snazzy, though the dimpled black Pixi cover seen in the Engadget coverage is nowhere to be found.
Most interestingly, they confirm that the devices' performance is "fairly snappy" and both demo units were not running webOS 1.4 but rather a new version code-named "Arak". No additional details are available but this could a codename for a preliminary version of WebOS 1.5. The images provided by PreCentral certainly show the same basic aesthetics as earlier versions of WebOS. In another moderately encouraging sign, Dieter also reports that some 3D games were pre-loaded on one of the demo Pixi Pluses. Since 3D gaming is normally a Pre-exclusive attribute, it could suggest that Palm is working to address the feature and performance deficiencies of the Pixi, eventually bringing it up to par with the Pre's gaming capabilities.
Additional details gleaned from the report include confirmation that AT&T Telenav turn-by-turn directions will cost $9.99/month, so the Palm faithful hoping from some Android-style free navigation will have to continue waiting. Another interesting tidbit is the YellowPages Mobile app supplied by AT&T. It is powered by Microsoft's Bing and reportedly works quite well, even featuring tight integration with the PIM components of webOS. This is indeed encouraging news for anyone concerned that Google may show increasingly less affection towards non-Android devices and users as the smartphone wars continue to unfold.
Article Comments
(35 comments)
The following comments are owned by whoever posted them. PalmInfocenter is not responsible for them in any way.
Please Login or register here to add your comments.