Two New webOS Apps Added to the Catalog
Tuesday, July 28, 2009 10:56:52 PM
It's been awhile between drinks when it comes to Pre apps, with the last App Catalog update coming over a month ago on June 11, leaving Pre owners nought to do but stare hungrily through the windows of competing app stores like ragged street urchins trapped in a perpetual Dickensian nightmare.
Today, though, Palm has finally seen fit to toss us some scraps from their no doubt app-laden table: they've announced via their blog that two new apps are now ready for download from the App Catalog. Read on for the details.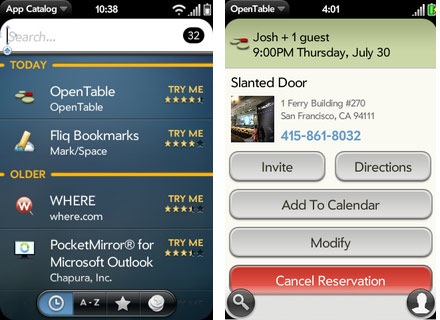 OpenTable
Makes restaurant reservations that can then be integrated with your calendar. You can also use a location-based search to find nearby restaurants with tables free, and get directions.
Fliq Bookmarks
A new utility from Mark/Space that integrates with the Missing Sync, allowing you to transfer Safari bookmarks to your Pre.
Article Comments
(41 comments)
The following comments are owned by whoever posted them. PalmInfocenter is not responsible for them in any way.
Please Login or register here to add your comments.