Upcoming Best Buy Sale on Palm handhelds and Centros
Tuesday, July 29, 2008 1:47:39 PM

The arrival of August brings not only the close of summer but the annual rite of the back-to-shopping season that's always a strong period for tech gear sales. Based on a leaked weekly sales flyer scan, Best Buy is kicking things into high gear the week of August 3rd-9th with a solid crop of Palm-related deals. As always, these deals may vary in availability or price from region to region.
Palm's newest remaining handhelds, the TX and Z22, both introduced in October 2005 and rapidly approaching their 3-year anniversary, are both marked down from Best Buy's usual prices. The Palm TX, still Palm's only Garnet-based product with 128MB RAM, 320x480 screen and Wi-Fi, rings in at an attractive $254.99, a $60 savings from Best Buy's strangely higher-than-MSRP usual price of $314.99. With the recent beta availability of an unofficial SDHC driver for older Palm devices such as the FAT32-enabled TX, this device's long-term viability just became quite a bit brighter. The entry-level Palm Z22 handheld gets a $10 price cut down to $89.99, a savings of ~$10 from its usual $99 price tag.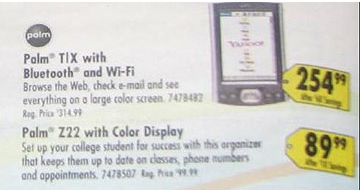 Palm's popular Palm smartphone, the Centro, has generally has seen lower pricing with its AT&T GSM version than with the CDMA carriers. Next week's upcoming Best Buy ad shows that all colors (white, black and the new electric blue) of the AT&T Centro are going to be offered for free in-store after several instant rebates and the usual 2- year contract. From my personal findings, white is the only Centro color carried in-store by many Best Buy locations, at least in the Southeast, but it's possible that the stores are ramping up their inventory in anticipation of next week's sale and the back to school rush.
The newest version of the Palm Centro, found on Verizon Wireless, will available for $49.99 for new contracts or for $99.99 for qualified current customer upgrades. Verizon's version of the Centro is available only in a dark "Cobalt Blue" color scheme and is at present the only CDMA version of the Centro to sport standard Google Maps location functionality. Of note is the fact that current Verizon customers can also pick up a Centro or a Treo 755p for free online by utilizing their "new every 2" $100 upgrade credit on top of the closeout price of $99. With last week's news of the 755p's EOL status by Verizon, availability of this device is certain to be quite limited but is reportedly still available in some zip codes.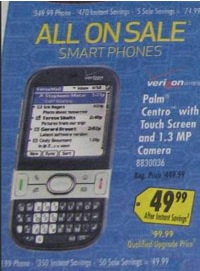 Best Buy has been quite aggressive recently about beefing up their mobile phone offerings as well as replacing mail-in rebates with "instant" savings and price drops. The previous low price record for the AT&T and Sprint Centros from Best Buy (and apparently any nationwide retail chain) has been $40, seen here. While some online retailers have offered "free" Centros for quote some time, they are usually tied into mail-in rebates and don't offer the instant gratification and security of purchasing from a physical establishment such as Best Buy. Additionally, Best Buy's free Reward Zone program offers customers a few dollars back in the form of gift certificates tied to members' monthly purchases.
With retail availability of Palm PDAs drying up left and right, the nod definitely goes to Best Buy for those wanting to nab one final Palm OS handheld or a "free" Centro in the coming week.
Article Comments
(7 comments)
The following comments are owned by whoever posted them. PalmInfocenter is not responsible for them in any way.
Please Login or register here to add your comments.