Palm and Microsoft Announce Windows Mobile Treo
Monday, September 26, 2005 9:25:16 AM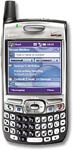 Palm and Microsoft today announced a strategic alliance to accelerate the smartphone market segment with a new device for mobile professionals and businesses. Palm has licensed the Microsoft Windows Mobile operating system for an expanded line of Treo smartphones, the first of which will be available on Verizon Wireless' national wireless broadband network. The news was revealed in a press conference today.
The collaboration gives customers more choices and marks a dedicated effort to deliver one of the world's most innovative smartphone solutions on the software platform favored by many businesses. Treo smartphones combine the hallmark Palm experience of a full-featured mobile phone with email, messaging, web access and organizational software -- in an attractive, compact design.
The new Treo smartphone takes advantage of the Windows Mobile 5.0 platform in multiple ways, offering Outlook Mobile, Office Mobile and Internet Explorer Mobile built into the smartphone, as well as direct access to Exchange Server 2003 for mobile access to information. In addition, the new Treo will operate with Verizon Wireless' BroadbandAccess service, the largest high-speed wireless broadband network in the United States. Verizon Wireless expects the new Treo smartphone to be available to its customers in early 2006.
"We've long believed that the future of personal computing is mobile computing, and our collaboration with Microsoft is a historic step in delivering that vision to a larger market," said Colligan. "We're confident customers will see a differentiated smartphone that delivers our world-class usability on Microsoft's flexible and robust Windows Mobile operating system. We collaborated with Verizon Wireless first because of its high-speed wireless network and growing footprint of BroadbandAccess cities."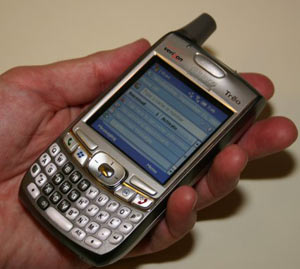 "This is a landmark alliance that will help businesses remain on the cutting edge of competitiveness," Gates said. "Demand for accessing information on mobile devices is soaring, and businesses want a low-cost, scalable solution. We're excited to team with Palm and Verizon Wireless to deliver a winning Windows Mobile solution that connects professionals to their critical information while on the go."
The Treo smartphone on Windows Mobile is a CDMA-based phone targeted for the U.S. market and takes advantage of Verizon Wireless' BroadbandAccess service on its EV-DO network with download speeds averaging 400-700 kilobits per second. Today, about half the U.S. population, in more than 84 metropolitan areas and in hundreds of airports across the nation, can access download speeds comparable to DSL or cable-modem connections. Verizon Wireless has been expanding its BroadbandAccess service area steadily since its debut in the fall of 2003.
The new Treo smartphone is powered by an Intel processor and joins Palm's award-winning family of Treo smartphones, which includes the Treo 600 and Treo 650, both offered today to Verizon Wireless customers.
The Palm Experience on Windows Mobile
During the press conference, the companies demonstrated the Palm experience now brought to life on Windows Mobile. The audience saw a sampling of Palm's award-winning hardware design integrated thoughtfully with a rich Palm software suite, including the ability to:
Contact someone quickly from the Today Screen and choose between home, office or mobile numbers, or select email or SMS. With only two letters entered, a customer can find a record from among thousands of contacts;
Reach people most often called via photo speed dials visible as a band of images on the Today Screen;
Decline a call with a friendly SMS, signaling "In a meeting" or "Talking with the boss" instead of simply ignoring the call; and
Rewind, delete or fast-forward through work or cell phone voicemail with familiar and consistent on-screen icons.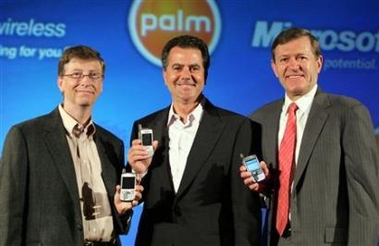 Full product details will be disclosed when the product is available for purchase in early calendar 2006. No plans were revealed for additional mobile operators. Palm indicated that a Treo smartphone using Windows Mobile based on other wireless technologies was not anticipated to be released earlier than the second half of 2006.
Article Comments
(229 comments)
The following comments are owned by whoever posted them. PalmInfocenter is not responsible for them in any way.
Please Login or register here to add your comments.

Only the first 50 comments are displayed within the article.
Click here for the full story discussion page...