Verizon Treo 700p Update Re-Released
Friday, September 21, 2007 3:33:14 PM
The tragic fifteen month saga of Treo 700p appears to have finally reached its conclusion with the re-release of the fixed version of the 700p 1.10 ROM updater for Verizon Wireless.
Following in the footsteps of the release of the revised 700w/wx ROM update on the 18th, this update adds no new features but is intended to resolve the 700p's much-maligned network disconnection issues. The Verizon-specific versions of the Treo 700p maintenance release was originally made available on July 12th but only remained live for one month. The 700p updater was pulled alongside the Treo 700w/wx versions in August due to the infamous "Error 3000 bug" being present on both user-updated and factory-flashed Treos bearing the new firmware.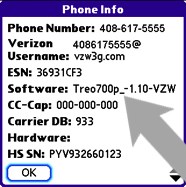 While no new features are present in this version versus the earlier updates, all of the bugs plaguing the 1.06 initial ROM version of the 700p were significantly improved upon by the 1.10 update, including the horrendous performance lag and Bluetooth instability. The full list of improvements from 1.06 to 1.10 are listed below:
Performance improvements to phone application
System improvements to minimize skipping during music playback and eliminate audio delays experienced on some games
Performance improvement to minimize delays experienced when loading Blazer browser
Support for new daylight savings time legislation, plus a simplified Date/Time preference panel
Increased expansion card support including 4GB SD cards and SDHC cards
Resolution of certain "wake up" issues that may occur with certain third party push email solutions
Improved handling of SMS messages to lessen stalling of messages.
For customers using Microsoft Exchange Server 2003 with SP 2 and above, an update to VersaMail client now includes an update to Microsoft Exchange ActiveSync which adds Microsoft's Direct Push Technology for push email, calendar and contacts. Also adding other EAS functionality such as remote wipe, policy support, and global address lookup
Bluetooth wireless technology enhancements:
Increases list of supported/compatible Bluetooth wireless carkits, including BMW and Toyota/Lexus (Denso)
Improves overall user experience with supported Bluetooth wireless carkits and headsets (e.g. allow user to manually connect / disconnect to a Bluetooth device)
Additional Bluetooth wireless functionality (e.g. audio routing to Bluetooth headset even when wired headset is plugged in)
The update is designed for both Verizon ROM versions of the 700p, including the initial 1.06 ROM. The earlier flawed version of the 1.10 ROM is indicated by "TREO700WX-1.10-VZW" as the software version in the Treo phone app's "Phone Info" screen.
Palm's 700p MR download page offers a helpful guide is given listing the approximate amounts of time required to complete the update. Install times are estimated to be 35 or 10 minutes.
The updater is compatible with all recent versions of Microsoft Windows and Mac OS X. Windows Vista users will need to install this update via a blank SD card, while Windows 2000 and XP users can HotSync a self-executing update file to their Treos.
Palm does give one note of caution to Windows Vista users running the latest Versamail 3.5.4 to sync with a Microsoft Exchange Server. These users are instructed to not install the 700p update to a bug where calendar items will not be properly synchronized. Palm currently offers no workaround for this issue other than the recommend to sync with an older PC running Windows 2000 or XP. Palm currently does not have a Vista-compatible version of the Versamail installer at this time.
Look for a full PIC report soon on whether or not this re-released 1.10 update successfully resolves the remaining issues with the Verizon 700p.
Article Comments
(9 comments)
The following comments are owned by whoever posted them. PalmInfocenter is not responsible for them in any way.
Please Login or register here to add your comments.