Toshiba Announces 32 & 16 GB SD Cards
Wednesday, August 22, 2007 2:39:49 PM
Back in May we reported on Samsung's intentions to release an 8gb microSDHC card at some point in the future. Now Toshiba has stepped up to the plate with an announcement of not only their own version of an 8GB microSDHC card but fullsize SDHC cards in both 16GB and 32GB capacities. Toshiba even goes as far as proving actual estimated prices and availability for release in the Japanese market.
Toshiba are estimating the 16GB SDHC cards to arrive in October for ¥40,000 or the US Dollar equivalent of $350. The capacious 32GB SDHC cards will reportedly be available in January for twice that amount. No word as yet on backward device compatibility or if the Palm OS Garnet file system will even be able to recognize such high-capacity cards. The 8GB SDHC cards currently on the market are recognized as two separate 4GB volumes by the Palm OS.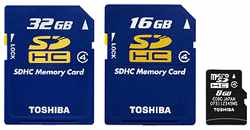 At this time, Palm officially supports fullsize SDHC expansion cards up to 4GB in the Sprint and Verizon versions of the Treo 700p with ROM version 1.10. Unofficially, SDHC cards work on all versions of the Treo 680 and some adventurous types have even hacked their Treo 650s to read SDHC cards. It is also rumored that Palm's upcoming Foleo sub-notebook also has a fullsize SD slot that is SDHC compatible.
The Treo 755p and 750 both use miniSD cards and are confirmed to work with cards up to 4GB in capacity. The recently-announced Palm Centro smartphone is expected to be Palm's first Palm OS-based device to utilize the tiny thumbnail-sized microSD (aka TransFlash) format. Previously, the only Palm OS device utilizing the format was last year's seldom-seen Garmin iQue 3000. The microSD format is electrically compatible with miniSD and fullsize SD slots via adapter cards.
Article Comments
(9 comments)
The following comments are owned by whoever posted them. PalmInfocenter is not responsible for them in any way.
Please Login or register here to add your comments.