Back to School Promotions on Palm Handhelds
Tuesday, August 14, 2007 10:12:41 AM
Owners of older Palm PDAs who prefer thefamiliarity and security of "brick and mortar" retail purchasing can enjoy several several good offers taking place this week. OfficeMax and Best Buy are both running back to school-related promotional sales for Palm handhelds in this week's sales circulars.
Read on for the full back to school promo report.
Best Buy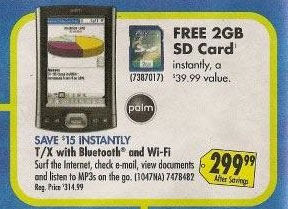 Best Buy is notable for being one of the few retail chains still investing in their strores' Palm displays and fixtures in addition to notoriously selling their Palm products above MSRP. For this week's sales, BestBuy is offering the Palm TX at its "normal" $299.99 price and including a free PNY 2gb SD card with purchase. Considering that even online this particular PNY card goes for anywhere from $24 to $30, this is a fairly warm deal, especially when combined with Best Buy's Reward Zone payback service and their agreeable return policies. I previously had one of these PNY SD cards and, while slow, noted no issues with its compatibility or overall performance.
Office Max
Office Max is running quite an attractive offer this week on the TX as well. Included with the TX purchase ($299.99) is what OfficeMax calls a "free charging/sync cradle". The cradle depicted is the Palm Treo Hotsync Cradle Kit (see the PIC review here) which is definitely incompatible with Palm's handheld line. It's possible that the bundled cradle for this promotion is a generic model or it could be the genuine Palm Hotsync Cradle (see PIC review here) for their MultiConnector handhelds. In that case, this would become quite a superb deal, what with that cradle's cool internal LED lighting, audio-out jack, and extra bundled accessories for international travel.
Since the days of Palm devices including a standard Hotsync cradle are long gone, this makes for a very attractive offering, though OfficeMax's stringent return policy on open-box handhelds might deter some from taking advantage of this deal.
In addition to the TX offer, OfficeMax is also offering the entry-level Palm Z22 handheld with a special "Essentials" pack bundled in. While their flyer and website offer scant details, this bundle is presumably similar to the earlier Circuit City Tungsten E2 "Essentials" promotional bundle covered last year.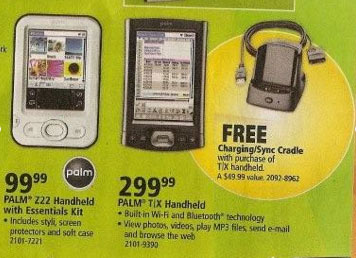 Both OfficeMax and BestBuy offer attractively-priced replacement plans for 1,2,and 3-year accidental damage coverage at prices significantly less than Palm's own extended warranties.
Recent trips to some Best Buy, CompuUSA and Staples stores have revealed the PDA areas to be various states of reorganization or disarray. It's possible that this week's promotions are designed to move the last of the Palm handhelds off the shelves to pave the way for the imminent arrival of the Foleo, though Palm has not yet announced any official retail partners and Best Buy has only been mentioned in rumors thus far.
Previous PIC reports on Palm's presence among major US retailers can be found here, here, and here.
Article Comments
(2 comments)
The following comments are owned by whoever posted them. PalmInfocenter is not responsible for them in any way.
Please Login or register here to add your comments.