Foleo Release Date Sometime In September
Thursday, August 9, 2007 11:48:31 AM

Palm's earlier claims of an unspecific late summer retail availability for its new Foleo Mobile Companion now appear to be slightly off course. A recent CNN/Money wire article entitled "Palm Looking for Linux Developers", gives a revised launch date of some unspecified date in September instead of the August availability many have been anticipating.
This news arrives in a timely fashion alongside this week's announcement of Wind River's collaborative efforts with Palm and the LogMeIn Remote Desktop release.
The CNN article goes on to offer some tantalizing tidbits for eager Foleo fans, including the claim that Palm has made a number of improvements and changes to its "instant-on" flagship mobile product since the initial May 30th unveiling. Yet, CNN claims, the Foleo is still in need of additional software support from developers well-versed in Linux to extend the device's basic capabilities outside of the usual the web/e-mail/Office documents feature set triumvirate.
Fall 2007 is looking to be an increasingly busy period for Palm, what with the above Foleo news and the constant rumors of anywhere from one to four new Treos rumored to launch this fall.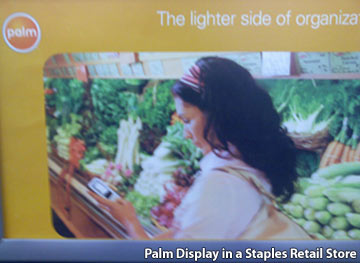 In other possible Foleo-related news, my recent trips to several local Best Buy and Staples stores revealed the PDA areas to again be in the midst of reorganization, presumably to make room for a coming Foleo display. While no new plans have been announced concerned the Foleo's retail availability aside from Palm's own retail stores and kiosks, the continued presence of Palm's remaining PDA models combined with new in-store fixtures and signage is a positive sign indeed. The new end caps and display materials in major retailers such as Best Buy and Staples suggests that Palm is looking to maintain or even increase their toehold in the brick and mortar retail market on the coattails of the Foleo.
PIC's full section of Foleo coverage can be found here.
Article Comments
(11 comments)
The following comments are owned by whoever posted them. PalmInfocenter is not responsible for them in any way.
Please Login or register here to add your comments.