Foleo Processor Details Revealed?
Monday, July 23, 2007 6:02:58 PM
Rumor: A Flickr user has posted a new series of new pictures of the Palm Foleo in action at a recent 'sneak preview'. One shot in particular reveals what could be definitive information on the processor type and speed, which Palm has yet to officially declare.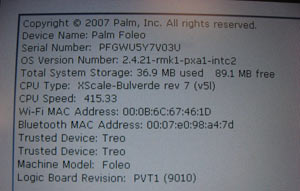 This image of the Foleo's info screen seems to indicate the Foleo will use a PXA27x applications processor, listed as "XScale-Bulverde rev 7 (v5l)". The same screenshot shows a 415.33 MHz CPU clock speed. This is the same line of processors found in the Palm Treo series and a number of other smartphones on the market today.
It is not clear if the chip itself is limited to 415MHz, as the PXA27x series of chips include SpeedStep technology, which allows the operating system to control the the processor speed based on load to save power. This line of chips was originally released in early 2004. It is available in four different clock speeds: 312 MHz, 416 MHz, 520 MHz and 624 MHz.
Another interesting picture from the same photoset shows the underside of the Foleo with the battery cover removed. The battery is comprised of 5 treo battery cells linked together and runs almost the full width of the unit. The battery compartment also hides a Compact Flash slot for additional user storage.
The Foleo's final specifications are still unclear as Palm has not announced the it's official final configuration. The Foleo is expected to be available later this summer for $499, the latest rumor sets its release date around August 22nd.
Thanks to the Voice of Reason for the tip.
Article Comments
(120 comments)
The following comments are owned by whoever posted them. PalmInfocenter is not responsible for them in any way.
Please Login or register here to add your comments.

Only the first 50 comments are displayed within the article.
Click here for the full story discussion page...