GSM AT&T Palm Centro Spotted
Thursday, October 4, 2007 9:43:52 PM

Palm's latest Treo-derived smartphone is the Garnet-powered CDMA Centro, announced last week for Sprint. When the question turned to the device appearing on other CDMA carriers or in a GSM version, Palm only replied that the device would enjoy a 3-month period of exclusivity for Sprint beginning October 14th and lasting through the holiday season.
Despite Palmís current stance on the matter, a handful of leaked images and videos have been reported over the past few months indicating that a GSM-based version of the Centro is indeed in the works. These leaked images of a GSM version of the Centro were removed at the request of Palm's legal department yet no mention was made of a GSM version of the Centro at last week's announcement. In addition to last month's images from PDAFrance of the GSM Centro on the Orange network, the latest leaked images from GearDiary show a black Centro clearly running Garnet and displaying AT&T Music and AT&T Mail apps onscreen. The GearDiary post also (likely mistakenly) refers to this device as the Treo 500p, although a "My Cento" app is in plain sight.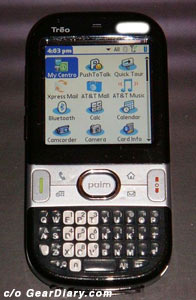 In addition to the latest GSM Centro rumors, as recently-revealed FCC documents do indicate that a quad-band Treo 500 version of the recent Treo 500v running Windows Mobile Standard may be in the works.
Presumably, a US-spec version of the GSM Centro/500p would contain a quad band GSM radio supporting the 850, 900, 1800, and 1900MHZ frequencies. One point of contention by fans of the Treo 680ís revised phone app is that no recent CDMA Treo (700p, 755p, Centro) has been the recipient of this new app featuring a larger, revised dial pad and contacts manager. As seen in the leaked images, the GSM Centro looks to feature the 680ís updated phone screen. If so, this would correspond with comments made by a Palm rep at the Digital Life show in NYC last week that the new phone app is hard-coded into the GSM chipset of the Treo 680 and would require substantial effort (read: cost) to port to the CDMA Treos.
To date no pricing, release date or carrier availability has yet been mentioned. Itís also unknown at this time if a GSM Centro would compliment or supplant the existing year-old Treo 680 in the lineup of Palmís traditional US GSM partner, AT&T Wireless/Cingular.
Article Comments
(31 comments)
The following comments are owned by whoever posted them. PalmInfocenter is not responsible for them in any way.
Please Login or register here to add your comments.