GSM Palm Centro Hands On Report
Friday, November 16, 2007 9:44:56 AM
Palmdoc.net, a blog focusing on the role of Palm OS devicesthe medical field, has posted a number of initial impressions from an exclusive hands-on with the rumored GSM version of the Palm Centro. Further lending even more credibility to the story is the fact that the GSM Centro report has since been removed at the request of Palm's legal department.
A few days after the arrival of the CDMA version of the Palm Centro, rumors and leaked spy shots began to circulate about a GSM version of the device running on the AT&T GSM network in the US. A recent ZDnet bog review of the Sprint Centro also mentioned a forthcoming GSM version.
Palm's most recent GSM smartphone is the Windows Mobile 6 standard powered Treo 500v. At this time it is unknown if the "Centro" moniker is exclusive to Sprint or if the GSM Centro will be badged under the Treo 500p or 690, as previous rumors indicated.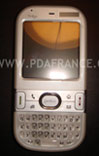 While the listed specs appear to be a mirror image of the CDMA Centro, a few surprises are revealed in the Palmdoc article. First, the GSM version is reported to have Memos version 1.32 instead of the 1.33 found on the CDMA Centro. But the biggest surprise is that apparently native voice dialing (although limited to a contacts database of 3000 entries or less) finally makes an appearance on a Palm OS smartphone! While the information presented is quite sketchy, it appears that this is an actual voice dialing function integrated into the OS and not a pay-as-you-go carrier offering such as the Nuance service found on Sprint's Treo 755p and Centro.
In another somewhat surprising move, Palm has seen fit to stick with the CDMA version's 1.3megapixel camera instead of the VGS camera that has graced all previous GSM Treos. So if this report is correct then this will be Palm's first GSM Garnet device to ship with a camera with greater-than-VGA resolution.
No word as of yet if this device will be an AT&T exclusive domestic release nor if Orange will be the launch partner for Europe as an earlier PDAFrance report indicated.
Article Comments
(29 comments)
The following comments are owned by whoever posted them. PalmInfocenter is not responsible for them in any way.
Please Login or register here to add your comments.