Palm Q2 FY08 Conference Call Highlights
Tuesday, December 18, 2007 4:11:17 PM

Palm Inc announced its second consecutive quarterly loss today. The company posted a $9.6 million dollar loss for the quarter and missed its initial revenue guidance by more than $20 million dollars. In the conference call with investors and analysts following the earnings release, Palm's CEO Ed Colligan stated the company clearly did not meet expectations primarily due to the delayed certification of the Verizon Treo 755p.
Colligan started the call off by expressing his disappointment in not meeting expectations for the quarter saying "we did not execute as well as we needed to." He pinned most of revenue shortfall on the failure to get the Treo 755p certified and released on Verizon in the quarter. In a latter followup question Colligan said the process was affected by issues with previous devices. He went on to state that due to the Palm OS being an older system somewhat deficient in its multitasking capabilities was some standard network operations issues not visible to end users, which in turn caused a delay in getting the product approved.
Palm Centro Success
Both Colligan and CFO Andy Brown went on to talk about the Palm Centro, calling it a "hit product" for Palm. The Centro is exceeding exceptions at Palm and has been experiencing record sell trough rates, higher than any previous smartphone released by Palm. The device is doing so well that Mr Brown later went on to warn that due to high demand component constraints could effect Centro shipments in the upcoming quarter. Colligan went on to hint that another large US carrier will pick up the device next quarter and additional global launches will continue the Centro's growth trend.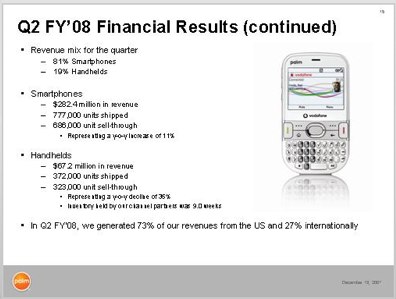 Colligan also spent a good amount of time explaining how this is a transitional time period for Palm and how they are focusing on their long term vision. He spoke of how they are focused on strengthening the product development team with the new Chairman, John Rubinstein making a big impact. He touched briefly on work of the next generation platforms at times stating that he felt it is still on target to be completed by the end of calender 2008 and that over the next year Palm will be making some partner and developer announcements.
Talking about specific new products going forward he said Palm is "done with adjustments" and is focused on working on breakthrough designs, UI's and functionality.
During the quarter Palm's revenue mix was 81% smartphones and 19% handhelds. 73% of revenue came from the US, while 27% was International. Smartphone shipments were flat compared with the previous quarter with 777k shipped with 680k unit sell through. Handheld revenue was down 39% from the previous quarter at $67.2 million. Palm shipped 372k units with 323k unit sell through.
Futher Palm models
Colligan said that 2008 will continue to see new Palm and Windows Mobile based product introductions. He confirmed that new Treo's based on Windows Mobile are in the works as well as the global launch of the Palm Centro. We recently reported on a number of possibilities based on the latest rumors and leaks.
In response to a specific question Colligan revealed that Palm has no plans to make the Treo 500 available in the US. He said the model would continued to be focused on international markets.
Layoffs
When asked about the recent layoffs fist reported here at PalmInfocenter, he said the company did not make reductions in any specific area and instead cut back on anything non-essential throughout the organization. He stressed that no one was let go that was working on critical long term areas such as anything related to strategic product development. No specific departments, areas or numbers were mentioned.
The following audio clip is a quote from Ed Colligan addressing the Treo 755p's certification issues.
Article Comments
(74 comments)
The following comments are owned by whoever posted them. PalmInfocenter is not responsible for them in any way.
Please Login or register here to add your comments.

Only the first 50 comments are displayed within the article.
Click here for the full story discussion page...