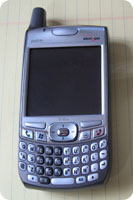 I had just ended a telephone call on my Palm Treo 755p. I had been on a Bluetooth earpiece because I was driving. I looked at the Treo and the standard buttons that appear during a call were still visible (hang up, headset, etc.). The call was over. The call had been over for two to three minutes and still the Treo acted as though it were still going on. Obviously, it had crashed. I handed the phone to my passenger and explained how to remove the battery, then reinsert it. When the battery was reinserted I got the dreaded "English or Spanish" screen, obviously indicating that a hard reset had taken place.
Let's forget about the fact that a handset shouldn't do stupid tricks like this, because all handsets incessantly do stupid tricks like this, and we users say, "Thank you very much, please kick me again, because I love my shiny object anyway." My son has a Blackberry which he has reported resetting on occasion. I know iPhones can do it. The manufacturers tell us "well, that's the price of the technology." I don't know when the 'price of technology' became tolerating mediocrity or at least institutionalizing it, but what became glaringly obvious to me was that every one of these manufacturers who do not provide for external storage are sending us the message: "Don't run these things in mission critical environments because we cannot guaranty they will always function."
And so let it be said at last: this is totally unacceptable.
Read the Full Article Text Here


Article Comments
(15 comments)
The following comments are owned by whoever posted them. PalmInfocenter is not responsible for them in any way.
Please Login or register here to add your comments.