Blue5 to Debut Soon
Wednesday, June 20, 2001 11:07:11 AM

TDK Systems is going to release the Blue5 by the end of this month. This is a snap-on Bluetooth attachment that will work with the Palm V and Vx. When a Bluetooth link is established to a GPRS mobile phone, the Palm will be connected to the Internet at a maximum speed of 44 kBit (fixed connection). TDK Systems is expected to offer the Blue5 at about $200.
The Blue5 has a range of up to 30 feet, free sight. It weighs .91 ounces (tdb) and is 1.94 by 3.48 by 0.46 inches.
TDK Systems, part of TDK, is also going to demo it at next week's PCExpo in New York. The Blue5 was developed by Tactel AB in Sweden, who demonstrated it at the recent Bluetooth Congress.
In addition to mobile phones, it can also be used to connect to network access points or laptops. However, there are few of these on the market. No Bluetooth capable phones are available yet in the U.S. and the list of other Bluetooth-capable products is still quite short.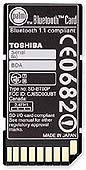 Still, more product announcements are expected over the coming months. Palm itself has announced that they will be offering a Bluetooth SD card for $150 by the end of this year. Sony also plans to release a $125 MemoryStick with Bluetooth capabilities soon.
Bluetooth is still in a chicken-and-egg situation. There seems little point in releasing Bluetooth-capable peripherals until there are handhelds and laptops that can use them. But there seems little point in adding Bluetooth to the laptops or handhelds until there are peripherals for them to use it with.
Also, the price for Bluetooth hardware hasn't dropped as quickly as the Bluetooth SIG hoped it would. They have a price target of $5 for the actual Bluetooth equipment. The high prices for the first Bluetooth-capable devices demonstrates that this is still well in the future.
About Bluetooth
Bluetooth is the name of a short-range radio frequency (RF) technology that replaces cables. Bluetooth allows computers, peripherals, and other devices to communicate with each other without having a physical connection, or direct line-of-sight with each other, and without needing extra communication protocols. Bluetooth technology operates at 2.4 GHz and is capable of transmitting voice and data. The effective range of Bluetooth devices is 32 feet (10 meters). Bluetooth transfers data at the rate of 1 Mbps, which is from three to eight times the average speed of parallel and serial ports, respectively. Bluetooth technology allows users to create a PAN (Personal Area Network) in which they can synchronize data with handhelds and PCs, and access data and E-mail on handhelds remotely with the use of a Bluetooth enabled cellular phone.
Related Articles:
On the Web:
Article Comments
(13 comments)
The following comments are owned by whoever posted them. PalmInfocenter is not responsible for them in any way.
Please Login or register here to add your comments.

Comments Closed
This article is no longer accepting new comments.