PalmSource and Sony Ericsson Bluetooth Deal
Thursday, October 17, 2002 3:25:08 PM
PalmSource, Inc., and Sony Ericsson, today announced their plans surrounding optimization of the Bluetooth interoperability between Sony Ericsson mobile phones and Palm Powered(TM) mobile devices.
The companies released the news at the Cellular Telecommunications Internet Association (CTIA) in Las Vegas. Sony Ericsson is a leading provider of mobile phones enabled with Bluetooth, a short-range wireless connectivity technology invented by Ericsson.
The two companies plan to work closely together to enable out-of-the-box compatibility between Bluetooth-enabled Sony Ericsson mobile phones and Palm Powered handhelds. Users of future Bluetooth-enabled products will be able to more easily access information, entertainment, and communicate across a wide variety of devices -- without cumbersome cords and wires.
For example, a user could select a phone number from a Palm Powered handheld device and have it automatically dialed on the SonyEricsson mobile phone -- via the Bluetooth wireless technology.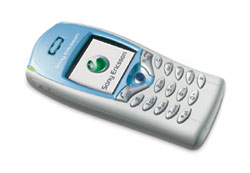 Seamless General Packet Radio Services (GPRS) dial-up will make mobile e-mail and Internet browsing an unparalleled experience, using services on demand with their PDA, still having the phone in their pocket or wallet. Thanks to Palm OS's ease of use, users will get the best benefit of wireless data network capabilities driving demand for 2.5 and 3G network services.
"Palm Powered handhelds are centered around mobile communications, allowing people to always be connected and supporting personal connectivity needs," said Albert Chu, vice president of business development and wireless at PalmSource Inc. "By working with Sony Ericsson, the entire wireless community can benefit from the advancements in interoperability between cellular phones and Palm Powered mobile devices."
Good Times Ahead for Bluetooth
IDC forecasts that through 2006, the average compounded annual growth for handheld devices with integrated personal area network capability (Bluetooth) will be 108 percent in the U.S. and 177 percent worldwide. This means that both domestically and worldwide, pen-based shipments will continue to more than double for the next four years.(1) Bluetooth is expected to be even more pervasive and ubiquitous than infrared for wireless communications because it conquers usability barriers of line-of-sight, and can pass through obstacles over short distances and simultaneously communicate with multiple devices at once.
Article Comments
(42 comments)
The following comments are owned by whoever posted them. PalmInfocenter is not responsible for them in any way.
Please Login or register here to add your comments.

Comments Closed
This article is no longer accepting new comments.