StyleTap Now Available for iPhone OS
Wednesday, March 24, 2010 11:01:44 AM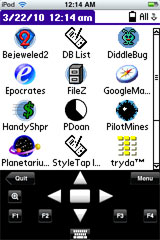 StyleTap has released a version of its StyleTap Platform for the Apple iPhone and iPod Touch devices. StyleTap is a Palm OS emulator that allows users to run original Palm OS applications on a "jailbroken" iPhone OS device.
StyleTap Platform for iPhone supports standard features that include TCP/IP networking, audio recording and playback, the ability to use the multi-gigabyte storage as a virtual memory card, and cut/copy/paste of text between native and Palm OS applications. It also provides innovative capabilities such as giving Palm OS applications access to the iPhone GPS by providing location information in standard GPS NMEA format.
StyleTap will run most Palm OS apps in a 320 x 320 display mode and should be compatible with most apps written for Palm OS 5.2. StyleTap also supports Palm OS programs that use native ARM code (PNOs, often called "ARMlets"). For button functionality a series of four virtual function buttons are provided as well as an onscreen virtual keyboard and directional pad.
"We have found that many users and businesses have made very large investments in acquiring and developing mobile applications, and these applications have been enhanced and refined to fit their needs like a glove," said Gregory Sokoloff, CEO of StyleTap. "With all the new smartphone platforms, users are reluctant to lock themselves into one platform or to make the same investment over and over for each new platform. StyleTap's cross-platform family of products can help make these problems go away.
"Naturally, we would prefer to be able to offer this product through the App Store, but unfortunately this is not currently possible due to Apple's restrictive policies, and instead this version of StyleTap will run on jailbroken devices. Although there are many useful and entertaining applications available through the Apple App Store, we continue to receive a flood of emails from users telling us that they need StyleTap in order to keep running the applications, not available on the App Store, that are critical to their lives and businesses."
StyleTap for iPhone v0.9 supports jailbroken devices running iPhone v3.x. Interested users and developers can visit styletap.com/iphone for instructions on obtaining a free 14-day trial of the iPhone version. A single license for StyleTap Platform for iPhone can be purchased for US$49.95.
The Styletap Platform is also available for Windows Mobile and some Symbian s60 devices.
Thanks to Mike Cane for the tip.
Article Comments
(56 comments)
The following comments are owned by whoever posted them. PalmInfocenter is not responsible for them in any way.
Please Login or register here to add your comments.

Only the first 50 comments are displayed within the article.
Click here for the full story discussion page...