TI Develops Digital TV Chip For Mobile Handsets
Thursday, October 21, 2004 2:59:55 PM
Texas Instruments today announced development of the wireless industry's first digital TV on a single chip for cell phones, which will capture broadcast signals and allow cell phone users to watch live TV broadcasts. Code-named "Hollywood," the chip will receive live digital TV broadcasts using new television infrastructure that is being developed for future smartphones and mobile devices.
TI's "Hollywood" digital TV chip will support newly established and open digital TV broadcast standards for the wireless industry. While no single standard will be used worldwide, TI believes that the most prevalent standards will be those that are open and non-proprietary, including Digital Video Broadcasting - Handheld (DVB-H), which was developed for Europe and is expected to extend to North America, and the Japanese specification, Integrated Services Digital Broadcasting - Terrestrial (ISDB-T). The chip will support DVB-H and ISDB-T.
Dedicated wireless networks supporting these standards will feature high-quality live broadcast TV (24-30 frames per second) paired with full audio to offer a more robust mobile viewing experience versus the one-to-15-frames-per-second streaming capability offered via cellular. These networks also could support services once reserved for the living room and bring them to the cell phone, including pay-per-view programming, interactive television, and menu/guide systems.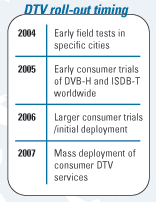 "The digital TV phone marketplace is in its nascent and needs technology leaders with combined wireless and consumer electronics experience like Texas Instruments to drive open standards-based digital TV handset technology," said Michael Schueppert, Senior Vice President of Business Development for Crown Castle, a pioneer in DVB-H infrastructure and deployment. "Just as open standards fueled innovation and growth in the cellular phone market, the same will hold true for the digital TV phone market. Crown Castle recognizes that TI is committed to flexible and open solutions, which will help our customers get to market in the shortest possible time and with maximum differentiation."
Leveraging TI's revolutionary digital RF processor (DRP) technology, TI is collapsing the traditional three-chip solution, which includes a tuner, OFDM demodulator and channel decoder processor, into the industry's first highly-integrated single chip for digital TV phones. "Hollywood" is designed to interface with TI's widely adopted OMAP processor technology, which handles the multimedia processing of TV content, to provide a complete TV receiver system for wireless handsets. "Hollywood" will use TI's advanced 90-nanometer process technology to allow for maximum power efficiency, smaller board area and lower overall system costs.
TI expects to provide samples of the "Hollywood" chip to customers in 2006. TI's offering will also include all needed software for television signal processing. The associated "Hollywood" plus OMAP processor-based development platform will allow handset manufacturers to create customized user interfaces, enhancing the consumer experience. This is expected to enable manufacturers to launch products in conjunction with the first mobile digital TV infrastructure mass deployments in 2007. Field trials are currently underway in several regions, including the U.S., Europe and Japan.
Article Comments
(12 comments)
The following comments are owned by whoever posted them. PalmInfocenter is not responsible for them in any way.
Please Login or register here to add your comments.

Comments Closed
This article is no longer accepting new comments.