Opinion: Tungsten T5, What the heck happened?
Monday, January 31, 2005 2:54:43 PM
PalmInfocenter reader and forum moderator, Derek Kessler (aka Captain Hair), has sent in a new opinion piece. Derek muses about the long build up and his disappointment regarding the palmOne Tungsten T5 handheld. Read on for the full article.
---
Opinion: Tungsten T5, What the heck happened?
An editorial by Derek Kessler
January 31st, 2005
I remember when the leaks about the pa1mOne Tungsten T5 first surfaced. Hi-res+, 256 mb, Bluetooth, Wi-fi, new connector, and Palm OS Cobalt. Some rumors said it would forgo the slider in favor of a slate form. I was one of those weirdos who actually liked the slider, but pa1mOne had done an excellent job with the Tungsten series, and with the acquisition of Handspring, I trusted them to put out a decent PDA.
Then came the first pictures, T3 top, no slider, and Tungsten C buttons (no thumboard). Those were quickly killed, but followed by a slew of Tungsten Es with Hi-res+. The forums on the internet rejected the pictures, but they kept coming. I was among those screaming, ďNo! pa1mOneís not dumb enough to do that!Ē A few weeks later: 1) Open mouth. 2) Insert foot.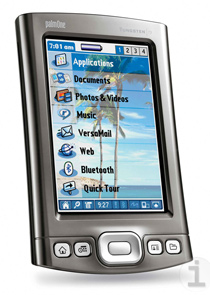 I was in shock. Theyíd taken my sacred T3 and desecrated it. It was an abomination! This was the first time I hadnít considered buying/drooling over the newest Palm. There were no thoughts of turning to the Windows Mobile camp, but I briefly considered going converged with the shiny new Treo 650, but, alas, this article was written on my stylus-bound T3.
I went on to read the specifications of this blasphemous thing. 256 Mb of NVFS RAM. Itís about time. Little did I realize the potentially disastrous consequences that NVFS could have for some programs, back-ups in particular, but the gobs of memory with internal card capability Ė something Iíd long yearned for Ė and power-failure-proofness made it okay.
The first flaw many of us noticed, besides its awkward aesthetic design, was the absence of an LED. What? No way to know if itís charging unless I turn it one? Strike two (strike one being its case). No vibrating alarm? Strike three. What on Earth were the engineers over at pa1mOne thinking? Or was it somebody in management or marketing? Plastic case. I have held one, and while it does feel more Ďrealí than the Tungsten Eís case, it did still feel like a plastic case. After two years of metallic Tungstens, this was unacceptable. Strike four. No Wi-Fi? Nobody can really figure out what the thought process was behind this one. Itís become pretty much standard on any high-end PDA. Any battery drain caused by it being on when not used it circumvented by turning it off. Way to go, nice job forcing sales of your Wi-Fi SD card. Strike five. No cradle. If you expect me to plop down four hundred USD on this thing, you better through in a cradle. Or at least not charge me 50 USD for it. Strikes six and seven. There are 624 Mhz Intel PXA processors available (thereís one in the Dell x50v), but pa1mOne opted for the 416 Mhz Intel. Itís such a marginal improvement over the T3ís 400 Mhz Intel, which my year of heavy use has not shown any lag or slowness. Why bother? Itís almost like an insult. Strike eight.
Other things that irked me: speaker on the back, absence of the sproing stylus, slaving the buttons to Favorites and Files, pleathery flip cover, Bluetooth 1.1 (as opposed to at least 1.2 or now 2.0), Palm OS Garnet 5.4 (Cobalt had been out for a year by now, and 6.1 had been released something like four months earlier), the absence of the slider (the thing looks huge, even though itís not much bigger than my T3), no built-in lightsaber, etc.
It seemed almost as if the T5 was originally intended to be the Tungsten E2, replacing the aging TE. The T5 was supposed to come out simultaneously, but run Cobalt. PalmSource butchered Cobalt to get it out by their self-imposed deadline, and nobody wanted it. pa1One had a release schedule to conform to, and the T3 was beginning to show its age, so they stole the E2 and shoved what they could fit from the T5 into the case. Marketing trumped the engineers.
That said, there were things I liked. The Drive Mode concept rocks. Granted, it requires you to bring a cable with you if you want to use it, but this is just the first go around with this for Palm.
I like the idea of NVFS, and on a handheld with massive memory, the issues that appear on the Treo 650 do not present major issues. Again, there are incompatibilities with some programs, but this is pa1mOneís first go around with NVFS and the issues will be worked out. Eventually.
The new connector is good. I like that they decided to put audio capabilities in. I don't like that my extra cradle, Power To Go, Ultra-Thin Keyboard, and Tom Tom car cradle wonít work. Sheesh, Iíve spent more on accessories than I did on the initial Palm. Iím thinking thatís not a good sign. And that didnít include programsÖ Ouch, Iíve got to stop thinking about this.
Internal drive capability is great. Itís something Iíve dreamed about for a long time and paves the way for even larger internal drives. Some have argued that this is a waste of money as opposed to a USB thumb drive, but the T5 has the capability to edit those files on the go, something you canít do with your average flash drive.
The Files application works great. I rather like the ability to tap on any file, even non-PRC and PDB (Palm files) and open them, if there is a compatible application present. If I load an MP3 onto the internal drive, or an SD card, I can browse through the card, find a song, and open it, immediately launching RealPlayer (which is audibly enhanced over the version provided in the T3). I can find a Microsoft Word .DOC file and open it with Documents to Go 7 (which comes with spell-check and word count standard).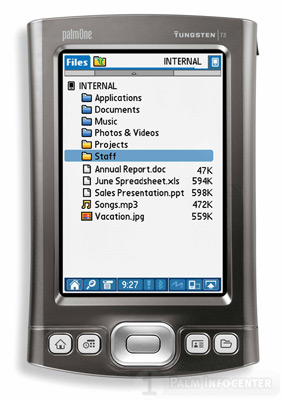 Thus far, the T5 seems to being selling well, despite my objections. pa1mOne has stated that the T5 is a new generation device, not a sequel to the T3. Many T3 owners, such as myself, have chosen not to upgrade. Itís the first time I havenít upgrade; the T5 seems more like a sidegrade, a trade-off. But, there are reasons that itís still selling fairly well. Owners of older Palms, such as the m5xx series, were in general wary of the Tungsten T seriesí sliders. Even though problems with the slider were minimal, they held off. When the T5 came out, it had everything they needed. Sure, they may have lost a few features, but they caught up with two to three years of technology. Another group were the upgraders. They had low-end Palms, like the Zire series. It had come to the time that the basic Palm was no longer fulfilling their needs, so it was time to jump up to a T-series handheld, and the newest one available. I did that with a m100 and a Tungsten T. Never regretted it. A third group are the noobs. Theyíre new to PalmLand and eager to learn. As a result, they buy the best handheld money can buy. Well, itís new, and costs more than the others, so it must be better, right? Iím not trying to insult anybody here, weíve all fallen victim to the new and the shiny. The last group is the super addicts. They bought the original Palm Pilot when it first came out. Then they bought the Pilot 1000. And a III, IIIx, IIIc, V, Vx, m500, m505, m515, Tungsten T, T2, and T3. And after a year of starvation, they bought the T5. And all of that did not include the Sony Clies or Tapwave Zodiacs.
I hope the T5 continues to sell well. But, I also have hopes that the T5 flops. pa1mOne dropped the ball on this one, putting out a mediocre handheld that alienated their loyal followers. I also hope somebody like Tapwave (Sonyís gone from the PDA market, so forget them) puts out a fantastic Palm that sells so well that pa1mOne is forced to innovate again. Thatís what spawned the Tungsten series (competition with Sony), but pa1mOne doesnít seem to feel threatened by the growing cloud of Windows Mobile. They have VGA screens. They have more than two PDAs with built-in Wi-Fi. They have CF card slots (CF cards come in micro-hard drives up to 4 GB). They have multi-tasking. It doesnít matter how well the features are implemented, all that matters is that they are not on Palms.
The T5 is not a worthy competitor in the PDA market. pa1mOne is still the largest player in the PDA market, and they need to flex their muscles and come out with something that will ďWow!Ē us, or they are doomed. I donít want to be all gloomy, but thatís the impression that Iím getting. -Derek
Article Comments
(117 comments)
The following comments are owned by whoever posted them. PalmInfocenter is not responsible for them in any way.
Please Login or register here to add your comments.

Only the first 50 comments are displayed within the article.
Click here for the full story discussion page...