HP Pre 3 Hardware Analysis
Thursday, February 10, 2011 10:53:42 AM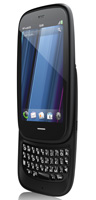 HP's just-announced Pre 3 contains a notable list of improvements over its predecessors, as well as a list of notable "firsts" for a "Palm" device. Read on as we examine the nitty-gritty specs of this device and see how it compares to the competition and to its older WebOS stablemates.
CPU
The Pre 3 arrives with a 1.4Ghz "Snapdragon" 8x55 CPU, easily making it not only the fastest WebOS smartphone yet but also the highest-clocked single-core smartphone currently available or officially announced by any manufacturer. This definitely seem to be the most future-proof, cutting-edge aspect of this device, just like the TouchPad's 1.2 GHz dual-core CPU.
While no official reason for the lack of a dual-core processor in the Pre 2 was given, I would hazard a guess that WebOS 2.x, like Android 2.2, currently lacks the necessary optimizations for dual-core architecture. By necessity, HP's new WebOS smartphones are more legacy-oriented offerings than the new TouchPad, running WebOS 2.2 instead of 3.0. Therefore, a faster single-core CPU makes more sense in the short term, leaving the core-core parts to the heavier lifting done by the TouchPad and version 3.0 of WebOS. However, one thing that is certain is that the new HP-backed WebOS devices are going full speed ahead with Qualcomm Snapdragons and leaving the TI OMAP 3600-series processors behind.
SCREEN
While in no way a match for the 4"+ behemoths running various flavors of Android, the Pre 3 still gives WebOS fans cause for minor celebration. A WebOS device has finally broken through not only the 3.1" barrier but the 320x480 resolution ceiling as well. Pre 3 packs a 3.58" 480x800 screen atop an enlarged keyboard, somewhat mitigating nearly two years of small screen frustration by the WebOS faithful. This makes it the largest screen fitted to a "Palm" device since 2005's Palm TX. With its substantial boost in screen size, the Pre 3 finally eclipses the iPhone's LCD in size, though not in resolution. More significantly, HP has carved out a nice spot atop the rare portrait touchscreen smartphone pile, with the Pre 3 easily besting comparable devices such as the BlackBerry Torch (3.2") and the Droid Pro (3.1") in both pixel count and diagonal size.
KEYBOARD & FORM FACTOR
HP is touting this enlarged keyboard as "the perfect balance of key size and roominess". The initial images posted by other sites from the HP event indicate that this keyboard is indeed wider with larger, more bulbous key caps than its predecessor. Seeing that Palm has made small but noticeable improvements to the keyboard in every minor iteration of the Pre line so far, this can only be a good thing. New smartphones packing physical keyboards are becoming something of a rarity in the Android world, so it is encouraging to see HP continuing Palm's trend and not abandoning this historical strength.
The Gesture area is still present, though this is one legacy WebOS feature that may be phased over the coming year as HP transitions to the gesture area-free WebOS 3.0 as seen on the TouchPad. With the Pre 3 looking dangerously close to being too tall and top-heavy with the slider extended, removing the gesture area as legacy apps are gradually updated to be TouchPad and WebOS 3.0-friendly seems like a natural move. Should HP choose to stick with the Pre line, this would create space for an enlarged screen without gaining any added bulk or sacrificing keyboard comfort, though it would likely require a change in aspect ratio.
Thankfully, a conventional microUSB and 3.5mm headphone jack are present on the Pre 3, unlike the risky new multifunction connector found on the Veer. While we will have to reserve judgment about the keyboard and build quality until a hands-on demo is performed, initial reports from individuals in attendance at today's event said that HP has definitely improved the slider and overall hardware quality by leaps and bounds over the previous Palm offerings.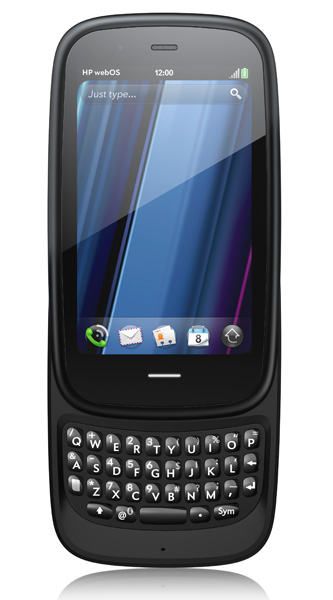 Finally, noise cancellation is a nice luxury on a modern smartphone, so the appearance of a 2nd rear microphone for noise suppression reasons is a small but welcome addition to the Pre 3.
CAMERA(s)
On the video front, the device's camera retains the Pre2's 5mp sensor but how has an autofocus lens as another "Palm" first. This sorely-needed improvement may slow down the lightning-quick snaps of the previous Palm phones but it finally brings a WebOS to par with the competition, with the ability have various barcode-scanning and augmented reality apps as one major draw of the autofocus camera and its related APIs.
The Pre 3 also surprisingly is packing a front-facing VGA camera, still something of a rarity among modern smartphones, though it's unknown if its video calling capabilities will be restricted to wi-fi only. Digitally-stabilized, 720p HD-quality video capture is finally present, which is a nice boost considering that less than a year ago, the original Pre did not even have video recording capabilities until the WebOS 1.4 update.
CONNECTIVITY
World travelers will be glad to see that the Pre 3 is the first truly global WebOS device, with support for GSM HSPA+ as well as EVDO Rev. A. Previously, all of Palm's smartphone offerings were only offered in CDMA or GSM versions, with some past devices not available in the other format at all. This should simplify things for HP from a distribution standpoint as well as make the device more appealing to a wide variety of carriers. Right now, it looks like Sprint's relationship as a staunch Palm supporter is becoming a distant memory, with AT&T and Verizon anticipated as the likely domestic carrier partners for the Pre 3. This speculation is fueled not only by the support to Palm shown by AT&T and Verizon throughout 2010 and into 2011, but some now-removed HTML code found on HP's Pre 3 page, as discussed here.
Wi-fi, long a very sore spot with Palm's user base, has taken a giant leap foward with support added not just for 802.11n but for both the 2.4 and 5Ghz bands, rivaling the very latest offerings from rival manufacturers in this regard. With global WWAN and dual-band 802.11n, the Pre 3 will definitely not lack for connectivity options. An integrated compass makes a long-awaited appearance on a WebOS device, again opening the door for many new types of apps and added capabilities for existing ones. A compass is a nice surprise for the Pre 3, as some users have speculated that a compass could not co-exist alongside the Touchstone inductive charging capability.
USB 3.0 as well as Bluetooth 3.0 are only starting to trickle onto the PC market, so their absence here is nothing to fret over. HP has really taken a liking to the Touchstone concept and will naturally be pushing it on all three of the new devices announced today. The Pre 3 is expected to remain compatible with the existing, still-brilliant Touchstone dock, thankfully, with a new vertical-oriented Touchstone 2 dock for the Touchpad also on display today.
While the Pre 3 and its smaller WebOS siblings will not work on the TouchPad dock (and vice-versa), there is no inherent risk if a user accidentally places smartphone on a tablet dock. Presumably, the existing Touchstone docks will still work for charging and Exhibition mode while new location--aware intelligent docks may be required to unlock some of the more advanced capabilities HP is set on adding to dock mode. The Pre 3's next-gen Touchstone has capabilities to "tap to share" links, files, and even handle phone calls with a TouchPad. This looks to be a heavily-touted feature from HP, though like the stillborn Foleo concept from 2007 and RIM's upcoming Playbook tablet, users will be required to own both the smartphone and the larger device to achieve full functionality.
RAM/STORAGE
Judging from the initial consensus amongst the online Palm community, there are a handful of disappointments for the Pre 3, mostly centered around its configuration of storage and RAM. The Pre 3 is set to be offered in 8GB and 16GB versions, which is actually a step backwards from the Pre Plus and Pre 2, as those came only in 16GB form. No 32GB was mentioned during today's presentation and the trend of no expandable storage slot in WebOS devices continues. With the just-announced Veer in tow, the need for an 8GB Pre 3 seems questionable, though perhaps HP will only release this version in certain markets to reach a target price point. At any rate, with the iPhone 4G maxing out at 32GB and some Android devices now offering 32GB internally + 32GB via microSDHC, Palm's flagship smartphone will ring in halfway through 2011 with the same level of internal storage as the Pre Plus had in January of 2010. That's a definite (and deliberate) lack of progress, folks.
Device RAM is still stuck at 512mb, which was superb a year ago in the Pre Plus, but now is only mediocre, with competitors now on the market or arriving soon touting 768mb or even 1GB. With WebOS' multitasking prowess alongside the additional pixels to push around, the Pre 3's 512Mb could become an Achilles heel of the device as the dreaded "Too Many Cards" error appearing more frequently or some 3D games having reduced performance.
BATTERY
Another long-time complaint of the existing WebOS devices has been the 1150mAh battery, a feeble carryover part from Palm's corporate parts bin that has lasted from the Centro in 2007 all the way to the Pre 2. The good news is that the Pre 3 boats an enlarged battery capacity from its predecessors. The bad news is that this is a minuscule 80mAh bump up to 1230mAh. While as yet unconfirmed, this is likely the same physical size battery as seen on the previous WebOS devices, the Centro, and the last two Treos, albeit with a minor capacity bump. Higher-capacity replacement solutions have been available for years now, so a higher-capacity OEM-size aftermarket battery may still be a possibility down the road.
With the substantially faster processor, and larger high-resolution screen, it's entirely possible that the Pre 3's battery life could be worse than the its older siblings, especially when the Snapdragon's GPU starts pushing polygons around in 3D games. HP has not made any statements on expected battery runtime for this device, so there is the ray of hope that a more modern, energy-efficient Snapdragon CPU (past versions of this CPU have been known to be relatively power-hungry) combined with improved power management routines and the CPU throttling inherent in WebOS 2.0 has been further refined and will alleviate some of these concerns. Right now, this is an area to watch as it may become a giant issue in real-world usage scenarios.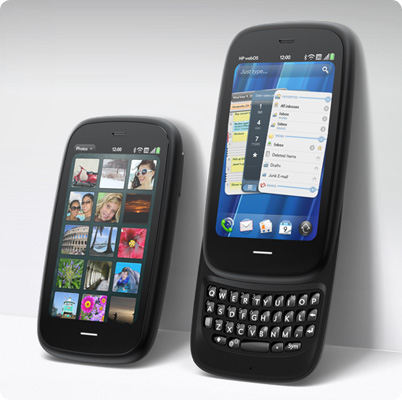 PRICING & AVAILABILITY
Pricing, as always, remains up in the air, though I do not see how this device can possibly hit the market any higher than $100 to $150 on a 2year contract. With the near-universal price ceiling of $199 in effect across all of the major carriers, subsidized hardware cost has become something of a moot point in comparison to ever-increasing data service charges. HP could attempt to stir the waters a bit by continuing the tactic begun with the Pre 2 by offering the Pre 3 initial in unlocked GSM form prior to a subsidized, carrier-supported version or even undercutting the competition with full retail pricing on the CDMA version, hopefully picking up some sales to users who are still under contract and not eligible for promotional pricing on a new handset.
HP is being vague on the Pre 3's release date, only suggesting "planned availability this summer" on their website and press releases. This is the single most worrying aspect of this device, as my comments below indicate.
FINAL THOUGHTS
With the majority of the industry's upcoming smartphones moving towards dual-core processor offerings, it will be interesting to see if HP and Qualcomm act like Intel circa 2004 and continue to ratchet up their CPUs to increasingly higher frequencies. Or the Pre 3 may very likely be the fourth and final "perfected" iteration of what is essentially the same form factor launched over two years ago at CES 2009. If that is the case, then expect HP's next smartphone release to be be a major rethink of both hardware specifications and industrial design.
While all of the Pre 3's specs are quite solid, especially the CPU when compared to the rest of HP's lineup, it make a nice higher-midrange device only when viewed against the currently available competition. If the device indeed does not hit the market until later in the summer, a flood of Android 2.3 or 2.4-powered devices (many with 4G LTE or WiMax support in tow) will be clogging store shelves alongside Apple's annual iPhone refresh, with various and sundry new BlackBerry and Windows Phone 7 handsets picking up the scraps not gobbled up by Android or iOS devices.
Four to six months is an eternity in the smartphone industry. It was in 2009 and it certainly is so in 20011. PIC readers can certainly remember the interminable wait between the original Pre's announcement and its eventual arrival on Sprint five long months later. Fast-forward two years and the smartphone industry has become only faster-moving and more cutthroat, with early summer being a time for blockbuster smartphone releases out of a certain Cupertino-based company. While weak specs, dwindling developer support or disinterested carrier partners are always points of concern, I don't see these factors as the major roadblocks facing the Pre 3. Once again, despite the presence of HP, the same old delays between announcement and market availability may again prove to be the biggest hurdle for a new generation of Pre to overcome.
Article Comments
(21 comments)
The following comments are owned by whoever posted them. PalmInfocenter is not responsible for them in any way.
Please Login or register here to add your comments.