Enhance Your Mobile Browsing with PhoneFavs
Thursday, February 21, 2008 1:50:27 PM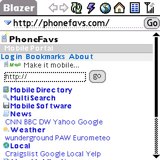 PhoneFavs has recently received a round of reviews and praise. The mobile optimized portal, bookmarking service and mobile web directory is a useful resource and starting point for surfing the web on a smartphone. In two short months, the site has logged nearly 30,000 bookmarks and currently mobilizes over 800 sites a day.
MyTreo.net recently reviewed the site and remarked that it "makes Blazer better on your Centro/Treo."
Mobile web review site, WapReview, published a positive write-up and said "[PhoneFavs is] a useful starting point for exploring the mobile web and creating your own custom web portal. [...] PhoneFavs provides a well rounded set of tools and would make a good alternative to your mobile carrier's default homepage."
Accessible via the shortcut url: pfavs.com, PhoneFavs was designed as a comprehensive mobile homepage. In addition to being a mobile web starting point, the site offers a mobile optimized social bookmarking system and an on device software store for all major smartphone platforms. Users can bookmark any website or import their own bookmarks from major desktop browsers and the online site del.icio.us.
About MobileInfocenter
Mobile Infocenter is an independent web firm operating leading mobile technology websites and truly useful mobile web applications, including PalmInfocenter.com, Mobile Linux Info and PhoneFavs.
Article Comments
(3 comments)
The following comments are owned by whoever posted them. PalmInfocenter is not responsible for them in any way.
Please Login or register here to add your comments.