Palm TX External Mic Review
By: Kris Keilhack
Sept 7, 2006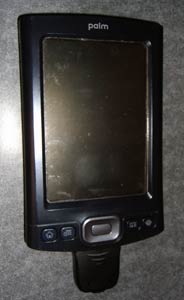 Palm's TX is the company's finest PDA in years—some would arguably call it the finest device in Palm's history. With no successor or improved model on the horizon, many of the Palm OS faithful are considering the TX the "last stand" and doing everything possible to extract every bit of utility from a handheld that still comes up short in a few key areas.
One of the TX's major shortcomings is the lack of an internal microphone. With internal Wi-Fi and Bluetooth connectivity, the TX would make for a fantastic VOIP solution and a strong alternative to a Treo. By basing the TX on the tired Tungsten E form factor, Palm saw fit not to bother spending a few R&D dollars to modify the design for an internal mic or a charge status LED. Enter the aftermarket: while a few users have successfully modded their TX's to accommodate an internal microphone, the minds at www.talestuff.com / Tech Center Labs have produced a high-quality, mass-produced external microphone solution for the Palm TX.
Initial Impressions and Usability
I received a bare evaluation unit in an envelope that was devoid of any documentation so I cannot comment on the packaging.
Build quality was much, much higher than I was anticipating. A grade of plastic very similar the TX's body has been used and the only noticeable difference is that the microphone module is jet black instead of the TX's dark blue-black (Cobalt!?) color scheme. I was also worried that the microphone would be very wobbly and loosely attached to the TX's Athena connector. Thankfully that is not the case. The attachment was so strong, in fact, that I was able to pick my TX by the microphone and stick it in my pocket (not a recommended action by any means)!
Since the TX lacks a bundled Palm voice recorder app, I downloaded the nifty freeware SoundRec application. It's barebones but it gets the job done, is stable on the TX and can record to an SD card-what more does one need?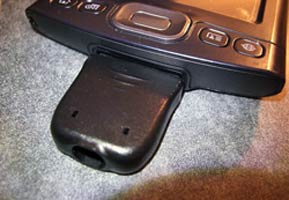 I spent a full workday using the TX to jot down memos while driving, talking on the phone and while driving. In informal testing against my 700p and its bundled Voice Recorder app, I noticed the TCL microphone to have a bit more background noise and to have slightly less sensitivity. I would rate the audio quality of the TCL microphone plus the SoundRec app comparable to an older OS 5.x Palm like the T|T or T|T2 but without the skipping audio.
In a nice touch the microphone housing appears to have cutouts on both the front and rear panels to ensure good sound pickup regardless of the placement of the TX.
Compatibility and Availability
This product is designed only for use on the Palm TX and Tungsten T5, Tungsten E2 owners are out of luck. Treo and LifeDrive owners, you already have a microphone so consider yourselves lucky!
Tech Center Labs sells the TX microphone directly on their web store for $14.95 plus shipping. They also sell a nifty new TX cradle that has a built-in microphone for $24.95 that might make a solid alternative to the overpriced Palm cradle. TCL also provides a very useful list of links to freeware VOIP, voice command and sound recording applications. Seeing the wide variety of programs available makes me even angrier at Palm for not making this basic feature standard on their "flagship" PDA!
I encounter no ill effects from using my TX in other apps with the microphone plugged in. In a pleasant twist, it requires no driver installation to function.
Pros:
- Reasonably priced
- VERY solid connection to the TX and good build quality
- Fair audio quality, considering audio capture is something the TX wasn't designed for
- Good add-on solution for those that can live with the bulk and who are too cautious to attempt to mod their TX's with an internal microphone
- Stable operation and no drivers required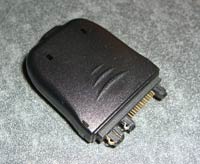 Cons:
- Bulky and rather unattractive
- Fragile and potentially a likely candidate to lose/misplace

- Of questionable value to some TX users
This is a nicely designed product that works within the limitations of being an add-on, externally mounted solution. My only major complaint with this unit its potential fragility and the added bulk it brings to the TX's otherwise svelte dimensions. Of course, this is no fault of Tech Center Labs. Palm's penny-pinching when designing the TX is absolutely maddening. An internal microphone would have only added a few cents to the TX's production costs yet increased its utility tenfold for many users. My compliments to TCL for going where Palm's bean counters fear to tread!
My overall rating:    

3 / 5
Article Comments
(43 comments)
The following comments are owned by whoever posted them. PalmInfocenter is not responsible for them in any way.
Please Login or register here to add your comments.