Gadget Grips Review
by: Kris Keilhack
Sept 11, 2006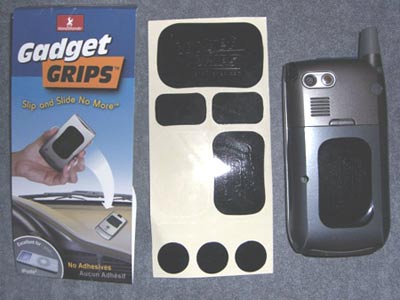 Summer may be winding down but there's still enough heat and humidity in the air in most of the country to make for slippery palms. When sweaty palms grab a slippery Palm, the unthinkable can happen. The same goes for stashing a Palm on the dash of a moving car. Since most of us do not carry around a rubberized 10th Anniversary Black Tie Treo 650 or a blue-skinned Zire 72, help must be sought from an aftermarket source to increase the Palm's "grip" factor.
While doing my recent review of Sticky Pad I saw a new product addition featured on Handstands' web site: Gadget Grips. With an uber-geeky name like that and a Treo that seems to get slicker each day I just had to give them a shot. I was especially curious to see if the Gadget Grips would make the perfect compliment to the StickyPad and/or provide some extra grip to my Treo while I talk on it.
Packaging
Gadget grips come in a comprehensive package that includes a total of eight pads in four different sizes. The assortment includes one large rectangular pad, two midsize rectangles, two small rectangles and three circular decals.
I paid $9.99 for my set at BestBuy as this seems to be the average price at most brick and mortar retailers. I did notice Amazon and a few other e-tailers selling the same pack for $5.99 + shipping. This is definitely an impulse purchase type of item.
Initial Impressions and Usability
Prior to opening the packaging was somehow expecting the Grips to be thicker and coarser than they actually were. The Grips are rather thin and delicate feeling. Still, they seem durable enough to survive repeated use and you DO get eight per pack.
After cleaning the grime off of the back of my Treo and TX I quickly applied the pads. Installation was quite easy, with the only small hiccup being the removal of a few air bubbles under the pad.
I immediately began testing my gadgets on a wide variety of surfaces including glass, wood and Formica desktops and countertops. The pads gave my devices a solid and secure grip but there's little need for extra grip in a home or office environment. I headed out to the car for the real testing. Automotive dashboards, especially ones with steep contours or the newer "soft touch" finishes understandably did not fare as well. The Gadget Grips cling to their corporate sibling StickyPads quite well but, one must wonder, if one already has a StickyPad on their car's dash then why the need for a Gadget Grip on the electronics?
The pre-cut sizes are a nice mixture of sizes but no size truly fits all devices. For example I had a tough time getting the mid-sized pads to fit the back of my TX. Between the reset button, speaker, and little "feet" on the back of the unit there was not a large enough area that was perfectly smooth. I had to end up going with two small Gadget Grips for my TX.
Time was not kind to my Gadget Grips. After a week riding around on the backside of my TX & Treo 700P (with daily usage on the Treo) the corners began peeling. I tried to reapply the Grip to no avail. I took Handstands' advice and cleaned the Grip with household glass cleaner. No matter what, the Gadget Grips just could not stand up to daily use and being carried in my pocket.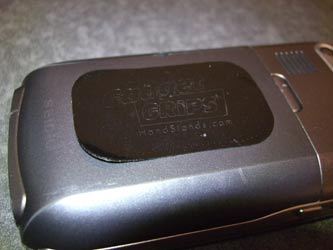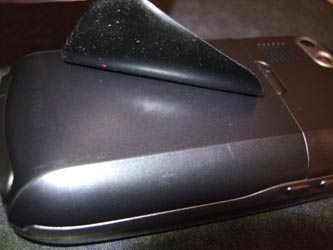 Compatibility & Availability
Gadget Grips are a washable, reusable, and movable pre-cut decal that can be applied to any portable electronic device with a metal or vinyl exterior finish. Handstands claims that a flat vinyl surface is the ideal surface mounting condition though the Grips' packaging shows them applied to a Motorola RAZR phone.
I had no issues using them or applying the Gadget Grips to a Treo 700p, a Palm TX or a Sandisk Sansa MP3 player. Just getting them to stay attached was the problem…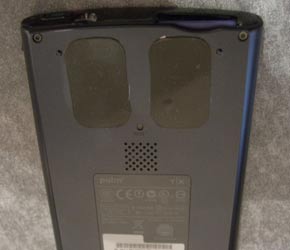 Gadget Grips are available at handstands.com as well as at major retail chains nationwide. They are available only in black and the MSRP is $9.99.
Pros:
- Very good for devices that are not transported often (radar detector, GPS receiver, garage door opener).
- Nice variety of sizes and shapes in a single package
- Reusable and washable
- Affordably priced

Cons:
- Not a wise investment for devices that are often "in pocket" or used on a daily basis (mp3 player, cell phone, PDA)
- Useless for devices that are used in conjunction with a carrying case or "skin".
- Can interfere with certain cradles and docking stations.
- Of little value if you carry your mobile device in a case or do not use it in a vehicle.
For an automobile "road warrior" like myself this product makes sense but only under certain conditions. I'll personally probably stick the small round Gadget Grips to my radar detector and GPS receiver because these things just are not durable enough to endure the rigors of repeated daily use. For the average needs of the average user, a single dash-mounted Sticky Pad makes much more sense than a set of Gadget Grips.
My overall rating:    

2.5 / 5
Article Comments
(2 comments)
The following comments are owned by whoever posted them. PalmInfocenter is not responsible for them in any way.
Please Login or register here to add your comments.