Palm Retail Roundup Update
Tuesday, November 7, 2006 5:50:06 PM
After the strong response to last month's story on Palm product presence at major brick and mortar retailers, PIC will be posting periodic reports from the retail frontlines showcasing Palm's "traditional" sales outlets.
A trip this past weekend to the local big box emporiums found several news-worthy items. Read on for the full story.
Best Buy
Another local Best Buy has set up a dedicated Palm handheld display. Much like last month's report, the Z22, E2, TX and LifeDrive were all present and accounted for. It's good to see that BB has had a change of heart about Palm's PDA lineup, even if they are stuck back in a corner next to the calculators and $20 Sharp pocket organizers. The prices are still bizarrely unchanged at ~9% above Palm's MSRP.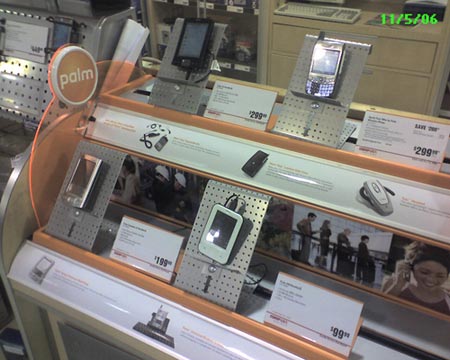 It's also worth noting that a handful of Palm-branded accessories are available in Best Buy's cellular/mp3 player accessory area. I noted two Treo cases, Palm Premium screen protectors, a Palm travel charger kit, and a Palm car charger kit (both for Athena/Multiconnector devices). Best Buy could likely pick up a few extra sales if they had redundant stocking of some of these accessories next to their Palm display at the back of the store.
CompUSA
The local CompuUSA has rearranged their layout yet again. This time the PDAs occupy part of the area where the iPod and other PMPs were. The old PDA section now houses only GPS receivers. I was pleased to find a stylish new Palm display and not a single Windows Mobile device in sight. The new orange "Palm" branding was very prominent and what looked to be orange-colored acryllic borders framed the display area. That's an eye-catching yet inexpensive touch. Good going, Palm.
CompUSA had the Z22, E2, TX, LifeDrive and a Sprint-branded 700wx on display. The accessory area had several new Rhinoskin & Speck cases in stock and had been tidied up since last month's visit. Overall the visit to CompUSA solidified my opinion that they've got their act more than other retailers it comes to carrying the dedicated handheld torch.
Circuit City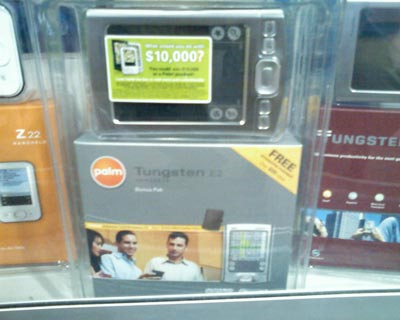 No surprises here; CC are still offering a motley collection of rag-tag Palm & WinMob display devices in various states of non-functionality. However, in the glass lockup case below the display, there was a real surprise. A *new* Tungsten E2 package (by my count, the 4th variant so far) bearing "Palm" branding on not only the packaging but the actual handheld itself! In the admittedly bad cellphone pictures I took you can see the new Palm-branded E2 next to an older one in the PalmOne burguandy packaging. The packages also had a decal affixed to the front that was promoting Palm's new "Win $10,000" contest. The price was the standard $199.99 -- no word if this was one of the "Essentials" bundles that includes an extra styli, screen protectors and a case. At any rate, it's good to see that Palm hasn't completely given up on their handheld line. Even if no models are introduced, it's reassuring to know that the Palm Z22, E2 and TX stalwarts should continue to be available at retail well into the future.
Article Comments
(2 comments)
The following comments are owned by whoever posted them. PalmInfocenter is not responsible for them in any way.
Please Login or register here to add your comments.