Pre Hands On User Report
Tuesday, May 5, 2009 4:43:00 PM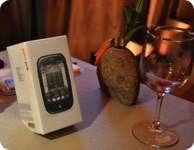 EverytingPre has a rather interesting, under the radar story up about one of the very first hands-on Pre reports from an actual user. EverythingPre forum member Artap99 claims to have access to a Pre for a short time via a friend who does "online electronic product reviews" and let him play with the device for approximately one hour. Whether or not the Pre in question was final production hardware and/or OS is uncertain.
Over the course of 11 pages in the EverythingPre forums, Artap99 addresses some questions and concerns from users while posting additional details about the device though posting no substantially detailed or new info such as what was revealed last week by the InsideSprintNow blog. Many EverythingPre forum members have expressed serious doubts about the validity of the information provided by Artap99 due to its vagueness. However, Everything Pre site Admin Christopher Meinck has reiterated his support for the poster's authenticity, thus our determination of the story as news-worthy.
Assuming the report is genuine, some of the most interesting Pre feedback gleaned from the Q&A forum session is as follows:
Build quality is described as "noticeably plasticky". However, it was reassuring to read that Artap99 feels the Touchstone replacement battery cover would add an improved tactile feel to the Pre.
Artap99 was disappointed by the Pre's keyboard. Not only was the feel of the Centro-style gel keyboard described as having "slow" travel and being crowded for his thumbs, he also lamented the lack of an onscreen keyboard.
The Pre's weight is described as being "good" and not too bulky.
Performance-wise, the Pre is described as not being fantastic "…but it is iPhone grade. Things take time to open. Transitions aren't always immediate."
The multitasking aspect of WebOS is described as having "…no noticeable slowdown with more applications open. Everything performs very well."
Battery life is described as "…good. Definitely on par with a Treo so far".
Camera image quality is described as better than the Samsung Instinct and the "colors were accurate and crisp". The LED flash is described as "great" and bright enough to potentially be used as a flashlight should someone create such an app in the future.
Article Comments
(6 comments)
The following comments are owned by whoever posted them. PalmInfocenter is not responsible for them in any way.
Please Login or register here to add your comments.