Several Palm Pre Training Videos Emerge
Monday, May 11, 2009 5:12:37 PM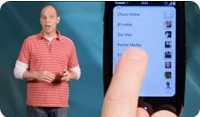 Several Pre and WebOS-oriented Youtube training videos have appeared over the past several days from a variety of sources. These are presumably excerpts from a series of leaked Sprint internal training videos or video podcasts.
First off, Inside Sprint Now continues their roll of Pre "scoops" with a new post containing a video showcasing a very quick view of the Pre's contacts app. The video is 52 second long and called a "Palm Pre Podcast". This clip and a few more are also embedded after the break.
The second podcast video appears courtesy of the SprintGurus forum and discusses the Pre's e-mail app. The main feature showcased here is Synergy's ability to pull together multiple email address for a single contact from various sources is shown and discussed in this brief 45-second spot.
The third and final (so far) leaked video also originates from Sprint Gurus and is a bit longer than its predecessors. It concerns the basic gestures for WebOS such as the back swipe in the gesture area, downward scrolling and the multi-tap screen tap to zoom into a web page featuring a slow-motion close up of the double-tap on the capacitive touchscreen. Interestingly enough, no mention or evidence is given of the Pre's multitouch capabilities in this video, though there seems to be a distinction between double-tap zooming and "pinch" zooming.
Finally, at the 00:18 mark of the video, a Documents to Go icon can be seen in the launcher, next to the Adobe Acrobat icon and below the Sprint and Nascar apps.
The pieces are rather cheesy but well-produced and should give Sprint employees, especially those at the retail level, a basic grasp of the fundamentals of the WebOS and its cloud-based Synergy components.
All three YouTube videos are available for HQ (High Quality) mode viewing. The mere fact that these videos are still available for viewing and having not been pulled after several days of existence could be part of a clever guerilla marketing campaign by Sprint and/or Palm.
Article Comments
(2 comments)
The following comments are owned by whoever posted them. PalmInfocenter is not responsible for them in any way.
Please Login or register here to add your comments.