Docs to Go 6 Released with Native Office Support
Monday, September 15, 2003 10:07:54 AM
DataViz announced today that Documents To Go Premium Edition version 6 is now available. Documents To Go now offers native file support for Microsoft Word and Excel documents and a number of other new features.
Other new features include a new user interface on the desktop and handheld, the ability to use password-protected files, and language tools such as spell-check and word count. Since its introduction in 1999, Documents To Go has been and continues to be the #1 selling Palm OS(R) office suite as measured by market research firm NPD Intelect.
Why Native Document Support?
Before native document support, the Documents To Go desktop application converted Microsoft Office files to a special handheld format that Documents To Go could open. Then the files were synchronized to the handheld. With native support, transferring and opening files gets even easier. Here are some examples where native file support is useful:
Easily share files in a "mixed" environment. For example, you can use your Secure Digital (SD) card as a modern day "floppy disk" to exchange files between a Palm handheld and a PocketPC simply by swapping SD cards loaded with Word and Excel files. You can even use the same SD card to upload handheld files to any computer with an SD slot or card reader. There is no need to have Documents To Go installed on that desktop computer.
Use Documents To Go along with popular wireless e-mail applications such as VersaMail to receive, edit, and send real Word and Excel files as e-mail attachments. Documents To Go can automatically open your attachments on the handheld itself so you can view and edit documents you receive. Edit any Word or Excel file in Documents To Go on your handheld, send them off as an e-mail attachment, and they will arrive at their destination as real Word or Excel files.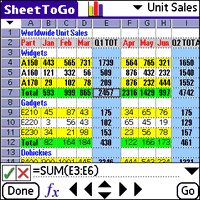 Other New Features in Documents To Go Premium Edition 6 Several other new features are offered in Documents To Go Premium Edition 6. These include document password protection, Spell-check and word count, enhanced expansion card support: Users can add files directly to expansion cards, and use categories on expansion cards.
Dataviz has also updated the desktop and handheld user interface. The new interface facilitates adding files and changing file formats. For example, a file can be set to be synchronized as a Word or Excel file so it can be easily e-mailed or shared, as a Word To Go or Sheet To Go document to optimize size, or set to Margiís-Presenter-to-Go format for projecting (Margi Presenter-to-Go hardware and software required). In addition, Documents To Go now offers selective sync so that the user can quickly synchronize just the one or two documents that need updating.
Documents To Go Premium Edition version 6 is available immediately, and will be available by October 1 in office supply and computer retailers such as Best Buy, CompUSA, and Office Depot, as well as from online sites such as Amazon, Handango, and PalmGear. The suggested retail price is $49.95. Upgrade pricing of $29.95 is available for all previous Documents To Go customers, including customers who received Documents To Go as bundled software with Palm or Sony Clie handhelds.
Documents To Go Premium Edition version 6 works with Windows and Macintosh computers. It can be installed on Palm OS handhelds running OS 3.5 or higher.
Article Comments
(44 comments)
The following comments are owned by whoever posted them. PalmInfocenter is not responsible for them in any way.
Please Login or register here to add your comments.

Comments Closed
This article is no longer accepting new comments.