Tapwave Coming to US Retail Stores
Tuesday, May 11, 2004 7:22:08 PM
Tapwave has announced that the Zodiac handhelds and games will soon be available at CompUSA retail stores nationwide in June. Tapwave also announced a host of new titles coming to the platform by years end.
In addition to launching at retail, Tapwave will release up to 10 new premiere titles by the end of the year, along with 60 to 75 Tapwave Certified or Tuned titles, such as MicroQuad (arcade/racing game), Hellfire: Apache vs. Hind (helicopter combat game), Orbz (action arcade) and Acedior (RPG). Some of the Zodiac premiere titles for this year will include Activision's Moto MTX: Mototrax and Street Hoops, Eidos' Tomb Raider and Atari's Neverwinter Nights. Activision's Tony Hawk's Pro Skater 4 just released in March, and DOOM II and Duke Nukem: Mobile Mayhem will be launching in the next few weeks.
"Support for the Tapwave Zodiac among well-established game publishers and developers continues to rapidly grow," said Byron Connell, co-founder of Tapwave. "We're excited and encouraged by the new opportunities that are continually opening up for this platform. This holiday season, the Zodiac will be available in retail outlets nationwide alongside new titles to show off the systems gaming power and multi-entertainment functionality."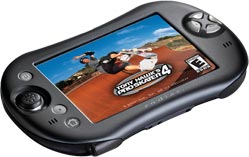 To ensure the continued success of the Zodiac, Tapwave is partnering with leading game publishers to bring other well-known premiere titles to Zodiac console users. Since launch, Tapwave has penned deals with leading titles from Activision, id, Eidos, Atari, Midway, Apogee, Fathammer, Sega and Epyx. The company now says more than 2400 developers have signed up for the Tapwave developer program and requested the software development kit (SDK). The majority of these developers are coming from established computing and entertainment platforms (e.g., Xbox, PlayStation, and Nintendo Game Boy) and over 40% are from international markets.
Tapwave has recently made available new and improved software solutions for the Zodiac. Mac users can now sync and make use of the Zodiacs features with Mark/Space's Missing Sync software. The company has also recently released the Zodiac software 1.1 update.
The console is offered in two models -- the Zodiac(1) for $299 (32MB RAM) and the Zodiac(2) for $399 (128MB RAM) and is available from Tapwave.com. The units run Palm OS 5.2T and features a 3.8 inch diagonal 480 x 320 pixel screen, analog joystick navigation with integrated triggers and buttons, stereo sound and Bluetooth for multiplayer wireless gaming. It has two SD expansion slots and runs a 200mhz i.MX1 Motorola ARM9 Processor, and has a ATI Imageon W4200 graphics accelerator (with 8MB dedicated SDRAM).
Thanks to Craig Simpson for the tip.
Article Comments
(34 comments)
The following comments are owned by whoever posted them. PalmInfocenter is not responsible for them in any way.
Please Login or register here to add your comments.

Comments Closed
This article is no longer accepting new comments.