Samsung i800 ALP Handset Cancelled by Orange
Tuesday, July 29, 2008 4:51:29 PM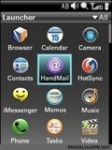 The uncertain future facing the ALP aka the Access Linux Platform, the latest effort from the entity formerly known as PalmSource and now part of Japan's Access Software, just became increasingly grim if the latest report from the Inquirer is correct.
In short, the article claims that the Samsung i800, reported in February of this year, and fully expected to be the market's first ALP-based handset, has been cancelled. Edelman, ironically enough the PR company of both Palm Inc. and Orange, simply stated that:
"Since the original project was defined back in February there have been a number of advances in mobile technology. As a consequence the i800 has been withdrawn in order to take advantage of these to prepare a more competitive Linux mobile."
While the Inq speculates that it might be in Access' best interest to release the Garnet OS virtual machine component (with its compatibility kit released last year) of ALP onto the world as open source code, Palm Inc's perpetual license to that IP as well as its current status as the sole provider of Garnet-based devices and plans to continue supporting Garnet would likely squash any immediate open-source plans.
Some tantalizing screenshots and demos of what could have been with ALP circa 2007 are available here and here. A recent video of ALP being demo'd in Feb this year is also available.
Article Comments
(40 comments)
The following comments are owned by whoever posted them. PalmInfocenter is not responsible for them in any way.
Please Login or register here to add your comments.