CNBC Article and Video Interview with Ed Colligan
Tuesday, July 29, 2008 2:33:32 PM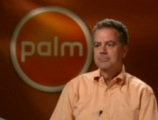 A new CNBC article entitled "Palm Almost Ready for High Fives" has been posted under Jim Goldman's TechCheck column. In the new piece, Mr. Goldman paints a cautiously optimistic picture of Palm's future, as the company currently struggles through a grim twelve months filled with a series of layoffs, four consecutive quarterly losses, buggy products, retail store closures, and product delays. Goldman's articles goes onto shed some interesting light problems facing the embattled handheld pioneer and the imminent changes promised by CEO Ed Colligan as the company completes its transition from the PDA days of the 1990s to a smartphone-centric future.
The article essentially states that the Centro is the focal point of Palm's rejuvenated assault on the marketplace. What with the announcement of two million Centros sold, the little device remains the company's key to reaching both new demographics and retaining current customers. A 17-minute video interview with Ed Colligan is joined by Goldman's commentary (while two video windows are posted to the site, they have identical content and unfortunately do not form a two-part interview).
Interestingly enough, Colligan claims that the Centro is capturing many users who walk into a cell phone store to purchase a new free or $49 w/ contract phone and walk out with a Centro without mentioning that many of these price-sensitive users may not be able or choose to pay the additional monthly data surcharges. Yet a few minutes later while defending the formfactor and usability of Palm devices, Colligan knocks the 3G iPhone as a more expensive long-term proposition due to its increased service fees from AT&T. Goldman's questions to Colligan faintly echo this and similar concerns but never fully hammer home the issue of Palm's risky potential with a barely-diversified product lineup and an antiquated core OS.
Some highlights from Colligan's comments include his take that the Palm Centro targets an entirely different ("less pretentious", "lower income") demographic than Apple's wildly-popular, much-hyped iPhone. Colligan also doesn't consider the iPhone a "phone that I would carry" but does offer some praise with "they did some great work there". This faint praise offers a drastic turnaround from his comments less than two years where Colligan shrugged off the potential thread offered by Apple as a newcomer to the smartphone market. Quite a bit of interesting analysis is offered by Colligan, enthusiastically in his element, behind the Elevation Partners deal and the long-term goals and intentions of Palm's investors that I will refrain from summarizing here in the interest of brevity.
Another interesting comment concerns Palm's "two flywheel" approach to target B2B customers with longer product lifecycles as well as the price-sensitive, hit-oriented, fickle consumer marketplace. No references are made to the higher-end "prosumer" segment occupied primarily by the iPhone that Palm's upcoming Nova OS devices will presumably also target.
Suspiciously absent from Colligan's commentary is any discussion of the upcoming Nova OS, Palm's shift of the Treo line to Windows Mobile-only devices, or any focus on the core strengths of Palm OS, aside from general comments regarding the Centro's "ease of use". Also strangely absent are anything more than passing references to the "rebuilding" influences from Jon Rubinstein for Palm's future product roadmap.
Rubinstein, who arrived at Palm last year amidst much fanfare, has so far operated quietly and out of the mainstream spotlight, with the tantalizing tidbits offered by Goldman of Rubinstein wielding "enormous influence" at Palm are not fully disclosed. Unsurprisingly, the cancelled Foleo subnotebook, reported an immediate of Rubinstein's product purge nearly one year ago, does not merit a mention by either Goldman or Colligan. Despite the red-hot market for lightweight "netbook" subnotebook PCs, no mention is made in the course of the interview of the Foleo II promised by Colligan last year in his open letter posted to the Palm corporate blog.
Ultimately, this is an extremely interesting article for Palm pessimists and optimists alike, with the full video interview with Ed Colligan making for essential viewing material indeed.
Article Comments
(25 comments)
The following comments are owned by whoever posted them. PalmInfocenter is not responsible for them in any way.
Please Login or register here to add your comments.