Barron's Says Palm is Down but Not Out
Monday, December 10, 2007 8:49:39 PM
Barron's has posted a new piece of tech commentary entitled, "Palm Is Down but Not Out". The article, limited on Barron's web site for subscribers only, is dated December 8th and focuses on the immediate aftermath of Palm's pre-notification of losses for the last quarter. A full text mirror of the article is available here.
The myriad of bad news facing Palm, Inc. rests predominantly on the shoulders of a previously unspecified device's failure to pass Verizon's stringent testing and certification process. The Barron's article confirms the suspicions of the PIC faithful as the device in question being the ill-fated Verizon Treo 755p, a handset whose Verizon debut has been constantly rumored since prior to the device's Sprint launch back in May.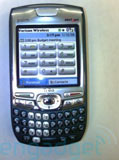 After a series of delays and no-shows, only recently has VZW made any official notification of the 755p's existence. After the enormous debacle that was the Treo 700p's buggy release and seemingly endless wait for a ROM fix that was later recalled and then reissued, Verizon is likely understandably worried about the 755p, which shares many architectural and OS similarities with the fatally flawed, now-discontinued 700p.
The article goes on to give a glimmer of optimistic news for Palm with the usual commentary on the new talent infusion from ex-Apple gurus Jon Rubinstein and Fred Anderson will spearhead Elevation Partners' efforts to revitalize Palm. Additionally, Barron's indicates that shipments of Windows-Mobile-powered Treos (especially to users overseas, though no specific mention is made of the non-US Treo 500v) are growing at a reasonable clip commensurate to other manufacturers' WM-based smartphones.
Article Comments
(15 comments)
The following comments are owned by whoever posted them. PalmInfocenter is not responsible for them in any way.
Please Login or register here to add your comments.