Palm Handhelds Retail Deal Alert
Tuesday, September 04, 2007 12:11:31 PM
The recent discounting trend of Palm handhelds reported last month continues in full force. The Best Buy retail circular for September 3rd-10th shows both the Palm TX and E2 handhelds offered at considerable savings from their standard retail prices.
For this week's sale pricing, the Palm TX is offered at a price of $249.99, a full $65 instant discount from the standard Best Buy price of $314.99. The Palm TX is most commonly seen with an MSRP of $299.99. This week's TX sale surpasses Best Buy's previous offer, as most users will find a sizable $65 instant discount more appealing than a mere $15 price drop and a free 2GB SD card. The older Palm Tungsten E2 handheld is on sale for $149.99, a full $60 discount off of the standard $209.99 Best Buy price.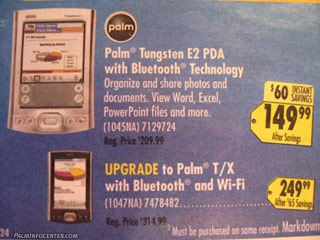 While similar pricing can be found online for both models, the convenience factor and easy return policy for a large brick and mortar retail chain like Best Buy cannot be overlooked. In addition, Best Buy offers reasonably-priced extended warranty plans in addition to their Reward Zone coupon program as a bit of additional incentive to purchase from them.
As reported in my previous Palm retail roundup articles (here, here, and here), Palm handhelds are bizarrely sold at Best Buy for prices higher than Palm's MSRP, bucking that trend that finds Palm devices available online and in some other retail chains considerable below Palm's MSRP. This practice began approximately four months into the Tungsten T3's life cycle in 2004 and has been maintained continuously by Best Buy ever since.
At this time it is unknown if the discounts are just part of the standard back-to-school sales, a clearance move for the final stocks of new Palm PDAs, or an effort to keep the Palm name in the spotlight prior to the arrival of the Foleo Mobile Companion in the retail channel, still reported to occur sometime later this month.
Article Comments
(13 comments)
The following comments are owned by whoever posted them. PalmInfocenter is not responsible for them in any way.
Please Login or register here to add your comments.