Palm Q1 FY07 Conference Call Highlights
Thursday, September 21, 2006 5:20:07 PM
Palm held their fiscal first quarter conference call today with analysts and shareholders. Palm's CEO Ed Colligan gave investors an update on Palm Inc's performance during the past quarter and went over future plans and goals going forward. He also revealed some new details on a upcoming, competitively priced Treo model due to be released shortly and a large scale advertising campaign to follow.
Colligan started off the talk going over revenue and performance for the quarter. Palm had a total of $355 million in revenue, with 76% ($269m) of that coming from Treo sales. Treo sell through was at 569,000 units for the quarter tying Q3-FY06's record numbers. Year over year Treo sell trough was up 21%. You can read the full figures in our Q3 results article.
Colligan stated that sales did not meet Palm expectations for the quarter. He placed the blame for the shortfall on slower sales in carrier retails stores due to pricing pressure from competing smartphone products that have recently been introduced. He stated business to business sales remained strong, despite the retail slump. He promised that lower priced product is due for release in the "very near future" will address the retail shortfall. He did say that a new mail in rebate program (likely referring to the $299 Verizon specials on the 700p and 700w) were having a positive impact on sales, but were not included in the recent quarter.
Treo 750v
He then went on to talk about Palm's plans for worldwide expansion, highlighting the recently announced Treo 750v. He said European customers in nine countries would be able to buy the product in the beginning of October. Prices are going to range from $299 USD to free depending on contracts and other promotions. He stated that Vodafone and Microsoft were going to heavily push the product in upcoming European marketing campaigns.
He also talked about how Palm will be utilizing a new Chinese based ODM partner begging next year to further differentiate and to help drive down costs. He also stated that Palm would be opening a new Shanghai smartphone R&D center soon.
He also stated that the Treo 700wx would soon be made available in other countries where CDMA technology is in use.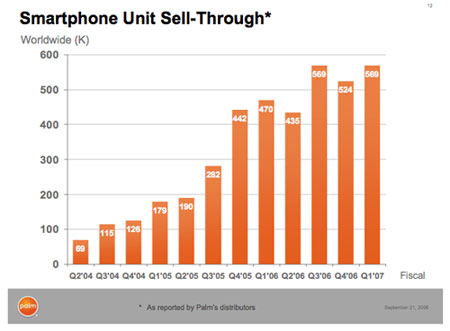 Colligan also revealed that Palm will be launching one of its largest US advertising campaigns soon. He stated the $25 million dollar campaign aims to bring new awareness to the Palm brand and push the benefits of smartphone adoption.
4th New Smartphone
Colligan also talked about the last remaining new Treo smartphone promised for release this year. He stated the release would come in the "very near future". The product will have worldwide distribution and will be offered by over 20 carriers by the end of this year. It's expected to be very competitively priced.
Not much about this device has been leaked, however analysts have been predicting Palm would be release a sub-$300 smartphone this year using previous generation radio technologies. It could likely be a GSM/EDGE device that runs Palm OS Garnet. Pictures of such a device with a design similar to the 750v were recently leaked. Rumors based on leaked Cingular documents have shown a Palm OS Treo on their release schedule for October.
Handhelds
Handheld revenue for the quarter was $87 million on sell through of 490,000 units. When asked how the PDA side of the business is doing Colligan stated that Palm "has been very focused on being a smartphone company." He said he does not expect the usual sales bump in handhelds this coming quarter, as is traditional with the holiday sales pattern.
Those two statements are not good news for Palm fans who are hoping to see a new PDA release from Palm this year. Although Colligan was quick to point out that Palm still leads in most US PDA sales, if no new handhelds are released this fall 2006 would mark the first year in Palm's 10 year history the company has not introduced a new PDA product.
Article Comments
(49 comments)
The following comments are owned by whoever posted them. PalmInfocenter is not responsible for them in any way.
Please Login or register here to add your comments.