Palm Q3FY07 Conference Call Highlights
Thursday, March 22, 2007 4:05:06 PM
Palm held its quarterly conference call today with analysts and investors. The call covered Palm's financial and business performance over the quarter, new initiatives being developed at Palm and talk (or lack thereof) about recent takeover rumors.
Takeover Rumors
Several questions were raised about the recent takeover rumors. While the standard we won't comment on rumors and speculation response was given, at one point Ed Colligan became slightly perturbed by a question regarding a potential sale and stated "We are focused on operating our stand alone company and driving our plan and are not going to comment on rumors out there." Palm CFO Andrew Brown also remarked, "Management is 100% focused on running this business as a independent market supplier of mobile computing products -- end of story."
This same kind of takeover/sale rumor chatter was strong last year several times as well. During the launch of the Treo 680 Ed Colligan gave an interview and emphatically told reporters that the company is not currently for sale nor had they made any overtures to find a buyer. Rumors of this nature have been one of the driving forces moving Palm's share price over the past two years.

Click above for audio clips of comments on the takeover rumors.
Financials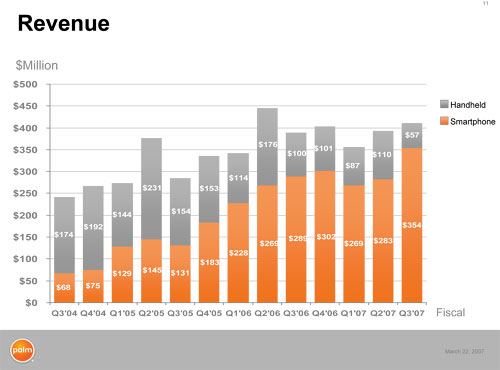 Total revenue for the quarter was $410.5 million. Treo smartphones accounted for 86% of revenue with record sell through of 738,000 units. Smartphone revenue was also a record at $354 million. Gross margin for the quarter came in at 37%, with improvements being attributed to a reduction in licensing costs for the Palm OS. Net income for the quarter, on a non-GAAP basis, totaled $16.5 million, or $0.16 per diluted share. Colligan remarked that Palm saw record treo sales to end users even at significant premiums over its competitors.
Handheld revenues came in at $56 million, a 44% year over year decline. Handheld sell tough was 456,000 units with 277,000 sold. Even with the reduction in PDA sales, Colligan remarked that the handheld business is continues to be profitable. He also remarked it continues to bring in customers that eventually upgrade to Treos, but expects the declines to continue.
Palm's international expansion continues to grow with 23% of revenues coming from outside the US. This is up 23% year over year. Palm reported a successful launch of the Treo 750 on Telstra in Australia.
R&D & Future Products
There was a lot of talk about Palm's continued investment in R&D for future products. Colligan announced for the first time that Palm is moving to a new platform method of developing hardware. They plan to develop hardware reference platforms, that can support different operating systems and hardware designs going forward, which would accelerate new product development and increase the "breadth of Palm's product line." Previously the company worked around designs on a per product basis. Colligan further elaborated on this shift stating it would help cost control to enable better pricing and profits down the line. It will also lower component complexity and count and allow Palm to work with more ODM partners. He said he expects to announce at least one new product based on the new hardware platforms before the end of the year.
Hawkin's secret project
When a question came up about future products and release timing over the course of the year, Colligan refused to get into specifics but did hint at a big announcement to come. He stated "clearly we [Palm] have been working on a major new area that has been speculated about in the press and talked about by Jeff Hawkins. Hawkins previously dropped major hints that he would reveal more details for Palm fans at an upcoming conference in May.
Jonathan Goldberg of Deutche Bank put forward a question about work being done to improve Palm OS since the recent deal with ACCESS. Colligan didn't go into detail on plans but did say there was a future for the Palm OS and Palm is doing work to bring it up to speed with 3G support, but he didn't talk about specifics.
Colligan also stated that Windows Mobile is doing well for the company and that there is more interest from carriers worldwide and enterprise customers. He also said he expects more traction with Windows Mobile 6 in B2B deployments. On the Treo 680 he said Palm has seen a significant shift with more women buyers and the recent marketing campaign has resulted in an early 14% increase in brand awareness.
An archived version of the call can be found here.
Article Comments
(59 comments)
The following comments are owned by whoever posted them. PalmInfocenter is not responsible for them in any way.
Please Login or register here to add your comments.

Only the first 50 comments are displayed within the article.
Click here for the full story discussion page...