Hawkin's New Device Expected Next Week
Friday, May 25, 2007 5:31:53 PM
After years of hints, veiled references and rampant speculation, the fruits of Jeff Hawkin's secret project are expected to be revealed next week. Hawkin's is scheduled to present at the Wall Street Journal's D: All Things Digital next Wednesday in Southern California.
Hawkins himself has hinted earlier this year that Palm fans "should keep a close watch on" what he reveals during the elite technology industry conference. Numerous theories abound as to exactly what we will see, but a number of recent hints from Palm executives and a look back at some of Hawkin's quotes provide some rough clues. In this article we take a look back at all the events leading up to the announcement and try to piece together a preview of what to expect.
A look back
The earliest indications that Palm founder Jeff Hawkins had a major new project in the works came in August of 2005. In an interview, Mr. Hawkins revealed for the first time that Palm had a new "child" technology in the works which was completely separate from Palm Inc's PDA and smartphone businesses.
Jeff Hawkins: There is a third business that I've been working on but I'm not going to tell you what it is. It's in mobile computing. It's something different and it's in its early stage. We have three businesses at PalmOne. One you don't even know about, which is just a child. Another is the teenager and the other one is the mature 45-year-old.

Q: Can you give me a better idea about what this "child" technology is?

A: Not really. I'll give you a couple clues. I always think of mobile computing as personal computing. This long-term vision has led us through everything -- first the organizers and now through the smart phone space. It's like everything a personal computer is. Continue down that path. What are the implications of a world where everyone has a super high-speed Internet connection in their pocket and many gigabytes of storage, super-fast processors, audio, visual and multimedia? What are the consequences of that? How will that change computing when you have all that stuff available to you all the time? I try to think into the future. That's how we come up with new products. So I'm not going to tell you what it is, but it's following the consequences of mobile computing.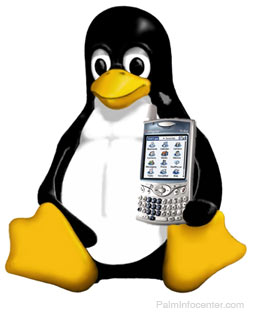 Roughly around the same time job listings on Palm Inc's jobs website listed numerous positions for Linux development for a new generation of Palm devices. The company posted detailed openings for hiring linux software engineers, smartphone browser developers as well as a positions for Mobile Handset development. This in turn led to further speculation that Palm Inc was planning to build its own Linux based operating system.
In the spring of 2006, David Beers wrote an article for PalmInfocenter entitled Palm's Open Secrets Exposed. In his article David made the case that Palm is indeed building their own Linux-based system for future Palm devices, based on an analysis of job postings and insider comments. His article also showed that Palm was making investments in future client/server based software and services including device management and over the air firmware updating technology.
The first thing that stands out--and has at least since I started checking in August of last year--are the openings for Linux engineers. The idea--I'll go out on a limb and say fact--that Palm has been working on a new Linux-based system for future Palm devices has been discussed quite a bit on this site. Whether or not you believe leaks by an analyst insider who states categorically that Palm's Linux OS is real and coming in 2007, the evidence from the job descriptions is pretty strong. Past and current openings for embedded Linux engineers have been replete with statements like "You will be responsible for the design and development of components of a new software platform." A new posting this month for a "Linux Tools Engineer" seems to indicate that Palm is starting to prepare development tools for this new platform:

"We're looking for an assertive candidate to help shape and maintain our Linux environments, and to deliver innovative tools to be used in creating Palm's world-class mobile devices. The tools include a wide variety of applications from hardware test utilities running on devices to debuggers running on the desktop."
In late 2006, former Palm employee Michael Mace reported on his blog that Palm CEO told him in conversation that Hawkins "secret project" will debut sometime next year (in 2007). Mace also stated that He knew a number of very bright people at Palm moved to work on it, more than a year ago.
Shortly thereafter Palm announced that they had signed a perpetual licensing agreement with ACCESS for Palm OS Garnet. The deal put Palm back in control of the classic Palm OS with legal access to the source code and the right to make changes and innovate on the Palm OS Garnet code base. A key section of the agreement clearly stated that the contract also provides Palm flexibility to use Palm OS Garnet in whole or in part in any Palm product, and together with any other system technologies.
Hints, hints and more hints...
In March of this year, when the secret third business came up in an interview Hawkins told PalmAddicts:
"We're going to be announcing something…but I won't tell you what it is…we will be launching this year, not in the distant future. I'll give you a much bigger hint: I'm going to be speaking at Walt Mossberg's D Conference in May. It's a high-end industry conference. Anyway, I'm going to be giving a talk there, and that would be something for the Palm fans to keep a close watch on."
During Palm's Q3FY07 Investor conference call a question came up about future product releases. In response Ed Colligan stated "Clearly we [Palm] have been working on a major new area that has been speculated about in the press and talked about by Jeff Hawkins."
Palm's Linux Based Mobile Platform
At Palm Inc's Analyst Day in early April, Ed Colligan officially announced that Palm will deliver a new Linux and open source based mobile computing platform combined with Palm OS Garnet technology on new products later this year.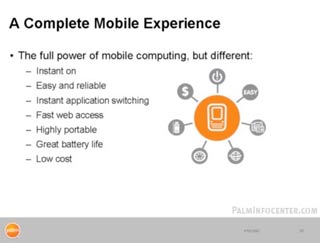 Details at the time were very light and only based on the brief remarks from Colligan. He described the new platform as a "new foundation for Palm" and said it will combine aspects of Palm OS Garnet and a Linux core. He also added that Palm plans to "evolve" the Palm Developer community to this new platform, indicating that this is the new way forward for Palm's in-house future OS strategy.
Colligan then went on to talk about the key points that a device that would use this platform would feature, giving us the best "official" hints we have to go on about the "mystery device". He continually stressed the importance of the user experience citing the ability to have an instant on, highly portable device with great battery life. Another key aspect would be the device's web browsing experience. Colligan said Palm is focusing highly on connected web applications and web services built around mobile devices. He cited the ability to easily backup and restore over the web, delivering software and device updates over the internet and wireless software distribution. The recent Opera brower licensing agreement is likely tied to this new platform.
Predictions
For once Palm has kept a new device closely under wraps without a single leak leading up to its announcement. It's a very tough call but If I had to make some predictions I'd put it somewhere between a UMPC and a high end PDA. I'm expecting a tablet like form factor with a ultra high resolution display. It will offer a full desktop like web browsing experience on a very small portable handheld. I also think Palm will include some significant new battery and power management technology to power a large display and wireless access and still keep the size respectable. Finally, I also expect it to include a drastically more modern user interface, multitasking abilities and built out versions of the classic Palm PIM applications.
What exactly the device will turn out to be is really anyone's guess up until Wednesday. However, it is clear that the unit will somewhat resemble a Internet tablet, PDA-like device. Something that is highly portable with fast wireless wifi access running Palm's new Linux based platform with Palm OS compatibility.
And there we have it. The long drawn out tease will finally be over next Wednesday as Jeff Hawkins gives his presentation at the Wall Street Journal's D: All Things Digital conference. While the event is not open to the general public or press, PalmInfocenter will have a full report next Wednesday.
Article Comments
(78 comments)
The following comments are owned by whoever posted them. PalmInfocenter is not responsible for them in any way.
Please Login or register here to add your comments.

Only the first 50 comments are displayed within the article.
Click here for the full story discussion page...