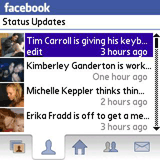 Who likes a bandwagon? The technology industry, for one. It just
loves
bandwagons! Especially
online
bandwagons. If there's one thing you can be assured of, it's that shortly after a popular idea floats to the surface of the fetid cesspool that is the Internet it will attract a mob of hangers-on, desperate to lift themselves out of the stinking mire. Thus the proliferation of "Digg this!" widgets, the virus-like spread of Google Maps onto every mobile on the planet and the access to eBay from anything more advanced than a sundial. Everyone wants a piece of the action. Preferably before someone else has chewed on it.
The biggest tech bandwagon of recent years has been social networking. Even if you don't use Facebook or MySpace, you've probably heard of them. Facebook is such a glamorous-looking bandwagon Microsoft paid $240 million to get a tiny little space on it. Now it's Palm's turn to try and muscle their way on board, with the release of their new Facebook for Palm application. How does it compare to the desktop experience? Will it be enough to get them noticed amidst the swarm of competitors? Is it a clever remora fish or a nasty hookworm? Read on for PIC's in-depth review...
Read the Full Article Text Here


Article Comments
(17 comments)
The following comments are owned by whoever posted them. PalmInfocenter is not responsible for them in any way.
Please Login or register here to add your comments.