Sony Develops TV-Tuner Chips For Mobile Devices
Friday, October 25, 2002 11:34:18 AM
Sony Japan has announced that it has developed some of the smallest TV tuners designed for PDAs and other mobile devices. When integrated with a mobile device the user would be able to receive and view broadcast television.
These modules are so small that Sony engineers gave its volumes in ml which is reasonable if you think of the size of unit. There are two different models. The first and smallest chip – BTF-ZJ401 has just a 1.5 ml volume (25x20x3mm, 3.5g). That is roughly 1/25th the size of chips on the market today. The second, BTF-ZJ411 is a bit bigger at 2.5ml (40x22.5x2.8mm, 4g). The main difference between two modules is the ability of BTF-ZJ411 to extract stereo sound from the radio signal.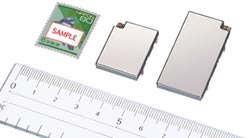 Both chips can receive a common radio signal input for VHF (1-12 channel) and UHF (13-62 channel), with an impressive signal/noise ratio of 47 dB. The smaller 401 model achieves this with a low 0.8w power consumption.
The main problem for designers of such a small radio units is that it usually contains many induction coils; size of those cannot be reduced endlessly. Sony developed a special chip transforming the radio signal in order to replace all the external coils. Both tuners have a digital interface for simple integration into other digital devices as PDA, laptops and tablet PCs.
Sony says they are planning to supply samples of the modules in February 2003. There is no information on what PDA will be the first to host a TV-tuner, but one can guess - it should be by Sony. Starting prices look high: $299 for BTF-ZJ401 and $340 for BTF-ZJ411, but we can expect them to drop after few months. It is also not clear from the sources whether tuners are planned to be a flash-cards, integrated into memory sticks or factory built-in.
A big thanks to Mick, for help with this article.
Related Info:
Article Comments
(41 comments)
The following comments are owned by whoever posted them. PalmInfocenter is not responsible for them in any way.
Please Login or register here to add your comments.

Comments Closed
This article is no longer accepting new comments.