Palm Accessory Clearance Sale at Palm.com
Wednesday, June 2, 2010 10:34:56 AM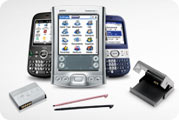 In a final acknowledgement that all things Windows Mobile and Garnet OS from Palm are headed to extinction, Palm's Store is having a blowout clearance sale on peripherals and accessories for their entire range of legacy devices. In short, Palm appears to be blowing out everything related to the Treo Pro, Treo 800w, Centro and all older devices with this sale that ends June 30th. Some deals are definitely more attractive than others, so read on to see what our picks are for the best values in the lot.

One of the highlights from the sale is the Palm Centro Leather Flip Case for $9.99, available in choice of four colors to match all of the Sprint and AT&T Centro offerings. A Palm Spare Battery Charger (including a spare battery!) for $14.99 for the Centro and Treo 800w is also a solid value. A savvy Palm user will know that the Centro/800w battery is also unofficially compatible with the Pre and Pixi so this is quite a good deal indeed.
The 5-pack of Centro styli for $1.99 is also another fairly nice deal, but shipping costs will mitigate much of the savings unless you are intending to really stock up, as Palm is only offering free shipping with purchases of $69.99 and higher.

For Centro and Treo users still wanting to rock out to PocketTunes, Palm's Stereo Headphone Audio Adapter is a nice offer at $1.99, especially seeing as how this is the much more manageable wired version and not the fragile, horribly clunky, right-angled predecessor I reviewed four years ago.

For global travelers, Palm's $4.99 International USB Power Charger should work fine with the Pixi and Pre line alongside the Treo Pro and 800w. Finally, for continent-hopping users of Palm "Athena" MultiConnector devices such as the Treo 755p, 680, 750, 700 series and 650, the Palm Treo Cradle Kit is a very good deal at $14.99, as it can charge a spare battery within the cradle, and includes a Hotsync cable as well global power adapters. In fact, Palm wants the same price for a USB Hotsync cable alone! I reviewed this package in 2006 and found it a nice, though overpriced accessory. For around 15 bucks, however, it's a steal if you are die-hard Treo user!
Thanks RichF for the tip!
Leave a comment...

Click on the
Start New Comment button
below to begin a discussion.
You must be
registered
and
logged in
to add comments.