Palm Pre: The Missing Manual Published
Monday, August 31, 2009 7:38:13 AM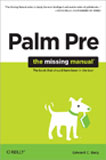 Call off the sniffer dogs and the search choppers, folks: the Palm Pre's Missing Manual has been found! For some odd reason Palm neglected to include copies of this weighty 287-page tome in the Pre's packaging. (Possibly because it would have had to have been shredded and compacted into a tiny cube of paper pulp in order to fit.)
But I digress. O'Reilly's new book is written by USA Today personal-tech columnist Ed Baig, includes a CD-ROM and (most importantly) is in full-color for maximum prettiness. Covering everything from gestures to media, it promises to "help you go from newcomer to expert in no time" and comes in both dead-tree and ebook editions, which will set you back $24.99 and $19.99, respectively. Or $27.49 for those greedy types who just have to have it all. It ships this week.
Leave a comment...

Click on the
Start New Comment button
below to begin a discussion.
You must be
registered
and
logged in
to add comments.