Chatopus 2.4 Released
Monday, April 27, 2009 12:59:51 PM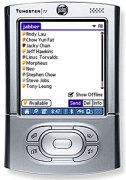 A new version of Chatopus has been released. Chatopus is a Jabber/XMPP client for instant messaging (IM) on the Palm OS platform. It works with multiple IM services including Google Talk, MSN Messenger, ICQ, AIM, Yahoo! Messenger, GaduGadu, QQ, Sametime and others. Recent new features include Palm OS Global Find support, and clickable links, phone numbers and e-mail addresses in message view. It also now features Twitter support, where you can update your status and receive real-time updates from your follower list.
Chatopus v2.40 supports Palm OS 4.0 and later. The program can be purchased for a one-time charge of US$ 16.95. There is a free fully functional 30-day trial period.
Leave a comment...

Click on the
Start New Comment button
below to begin a discussion.
You must be
registered
and
logged in
to add comments.