Sprint Plans to Be First with the Treo 650
Monday, October 25, 2004 12:41:38 PM
Sprint announced plans today be the first wireless carrier to offer the new palmOne Treo 650. The Treo 650 will be available next month at Sprint Stores, Sprint business channels and online for $599.99. Sprint business customers will also have the option to purchase a non-camera version of the device later this year.
"Sprint realizes that the mobile workforce needs to be able to perform a broad range of tasks in order to remain competitive and is committed to providing the necessary combination of cutting-edge devices, network capabilities and data services to make that possible," said Harry Campbell, president – Emerging and Mid Markets, Sprint Business Solutions. "The palmOne Treo 650 by palmOne is an incredibly powerful smart device that will make a valuable addition to Sprint's broad portfolio of wireless offerings, unmatched by any of our competitors."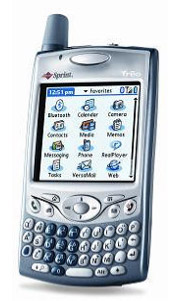 Building on the success of previous models, the palmOne Treo 650 is a truly life-simplifying mobile device for business users, enabling them to keep informed and in touch with access to business and personal email and text messaging, Web browsing, calendar, contacts and tasks. Operating on the enhanced Sprint Nationwide PCS Network, the Treo 650 by palmOne has 23 MB of user-available memory and is powered by the Palm OS 5.4 and an Intel PXA270 312 MHz processor. Built-in Bluetooth Wireless Technology provides the ability to wirelessly synchronize with Bluetooth-enabled desktop or laptop computers and easily connect with Bluetooth headsets and car kits (sold separately).
The palmOne Treo 650 by palmOne's candy-bar design has been refined with an improved backlit QWERTY keyboard with larger, flatter keys; strategic button placement for easier one-handed access; and a sharper, high-resolution color display for improved visibility in sunlight. Other user-friendly features include increased battery life (up to five hours of continuous digital talk time and over two weeks of digital standby time), a removable battery, built-in speakerphone and a non-volatile memory system that preserves data for a limited amount of time if the battery is removed or the device is drained of power.
"Consumers and corporations alike are realizing the benefits of the Treo. It extends their reach, increases productivity and connects them more closely to their friends, family, customers and partners," said Ken Wirt, senior vice president of worldwide marketing for palmOne. "Together with Sprint, we're giving our customers another great member of the Treo smartphone family that delivers all they need to stay connected and in touch."
For content, the Treo 650 by palmOne has access to Sprint PCS Vision downloadable Games, Ringers, Screensavers and other Palm OS entertainment and productivity applications billed on the Sprint PCS Bill. It is also the first U.S.-based implementation of Handango InHand for Palm OS. An intelligent, device-resident download client for smartphones and wireless handhelds, Handango InHand for Palm OS features a wide variety of mobile applications and content including games, productivity applications, ringtones and more.
Article Comments
(27 comments)
The following comments are owned by whoever posted them. PalmInfocenter is not responsible for them in any way.
Please Login or register here to add your comments.

Comments Closed
This article is no longer accepting new comments.