Opera Mini v4.2 Released
Tuesday, November 25, 2008 10:42:57 AM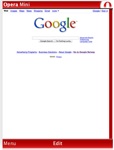 Opera Software has released a new version of its Opera Mini mobile web browser. v.4.2 loses the beta status and according to the company brings more than a 30% speed improvement for users in the US, due to the addition of a new Opera Mini server park in the United States. Opera Mini 4.2 also adds more language versions, browser skin selections and improved streaming video and youtube support on select phones.
Users can download the latest version by visiting mini.opera.com on your phone. In order to use Opera Mini with a Palm OS device you need to have the Palm Java Micro Environment installed. Since Palm no longer distributes the JVM you need to already have it installed or find an alternate source (download link) for it online. Also see our recent article on Palm OS web browsing for the optimal Java settings for Opera Mini on Palm OS.
This release also marks Opera Mini's official availability on the latest version of the Android mobile platform. Opera Mini is now the first Web browser alternative on Android. A technical preview of Opera Mini was previously released for an earlier version of Android in April 2008. Users of Android-powered mobile phones, such as the T-Mobile G1, can now download a beta version of Opera Mini 4.2 and experience a faster and less costly way to browse the full Internet.
"With Opera Mini 4.2, we are showing the world that Opera never gets complacent. We will always be improving our product, adding speed, new functionality and features, and ensuring that it is accessible by all," says Jon von Tetzchner, CEO, Opera Software. "Our support of the Android platform helps fulfill our mission to be available on more platforms, for more devices and reach more users, anywhere in the world."
Leave a comment...

Click on the
Start New Comment button
below to begin a discussion.
You must be
registered
and
logged in
to add comments.