CallRec 6.0 Released
Wednesday, June 4, 2008 10:38:01 AM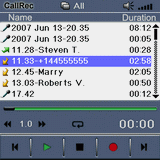 The normally slow summer season has really been showing some surprising signs of life on the Palm OS front, as updates to a number of classic Palm OS apps have recently been released. Now an entirely new version of the premiere Palm OS call recording and voice memo app, CallRec, has been released by developer QMobilSoft.
Calling this latest build of CallRec an entirely "new" version worthy of the 6.0 moniker might be a bit of a stretch. Version 6.0, dated June 1 2008, appears to be the recipient of only two primary new features. Both of these are security-related, as file encryption and password-protection of recorded files from within the app now make their appearance. Despite a lack of whiz-bang new additions, version 6.0 of CallRec looks to continue the strong showing of the already excellent 5.x version.
In QMobilSoft's own words, the major new features of CallRec 6.0 are as follows:
File encryption - you can encrypt files with unique "key" so they can be played only on device where they recorded and only with CallRec
Password option - set your password for application and secure your recordings
CallRec 6.0 is fully compatible with the new Palm Centro as well as all recent Palm OS Treos: 755p, 700p, 680, and 650. 300k of available device memory is required to install the application, which is the same as older versions of the app. Of course, an external storage card is required for storing all audio recordings.
CallRec for Palm OS is available for $19.99 to new purchasers and includes a free 7-day trial period. Thankfully, QMobilSoft has retained their affordable upgrade pricing for registered users of the older 3.x versions of the application with a nominal upgrade price $8.99 through the PIC Store and Mobihand. Users of the 4.x and 5.x versions of CallRec can upgrade to 6.0 for free. I'm pleased to report that a quick download, Hotsync, and install of the CallRec 6.0 PRC file to my 755p proved successful. The Nutshell installer routine unpacked the new version, overwrote my existing 5.2 install, and carried over my registration information seamlessly.
You can read my PIC "shootout" review between CallRec 4 and mVoice 4 here.
Leave a comment...

Click on the
Start New Comment button
below to begin a discussion.
You must be
registered
and
logged in
to add comments.