Palm Treo 700p Preview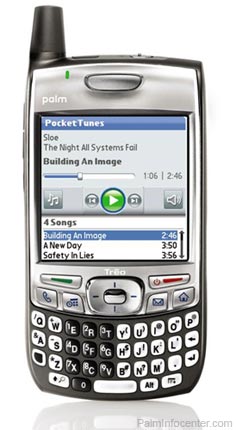 By: Ryan Kairer
May 15th, 2006
© PalmInfocenter.com
The Palm Treo 700p is a further refinement of what made the Treo 650 a productive and intuitive smartphone. It features a slightly refined hardware design and a large number of software, multimedia and usability improvements. The 700p is also the first Palm OS based smartphone to take advantage of high speed EVDO wireless networks.
Treo 700p Hardware
At first glance, the Treo 700p is almost identical to its Windows Mobile counterpart, the Treo 700w. The main difference is a higher density 320 x 320 pixel display and a few distinctive buttons. The 700p hardware features softer, more curved corners, squarer keys arranged in a smile pattern and improved keyboard and button backlighting.
The Treo now has true dedicated send and end call buttons. The top rectangular green and red keys are now primarily used for initiating and ending phone calls. The red end key also turns the screen off and locks the device. The home key is now located in the row of application on the far right. The menu key had been moved to the bottom right of the keyboard. The center 5-way navigator is also a bit larger and is a bit easier to thumb around with. The other application buttons are user changeable and by default take you to the Phone app, calendar and email.
Size wise, the Treo 700p has dimensions of 5.08" x 2.28" x 0.89" inches (129 x 58 x 22.5 mm) and weighs in at 6.4 ounces (180 g). It pretty much shares the same dimensions and weight as the Treo 650 and 700w.
Inside, the Treo 700p is powered by a 312 MHz Intel XScale processor. The device has been given a boost in the memory department. It includes a 128 MB non-volitile (NVFS) chip for program memory of which 60 MB is user-available for program storage. Both the dbcache and dbheap (internal application memory space) have been increased. The dbheap is now up to 10 MB and the dbcache has a 18 MB capacity.
The 700p includes a 1.3 megapixel digital camera built into the rear of the device. It can take photos at a max resolution of 1280 x 1024 and has 2x digital zoom. It can also record video clips with audio at a 352 x 288 resolution. It has automatic light balance and an improved FPS capture rate for video clips. A non-camera version will also be made available.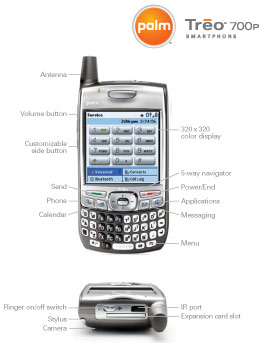 The Treo 700p has a SD memory expansion slot. Palm has added built in FAT32 support for SD cards up to 2 GB in size. Palm engineers are currently testing 4 GB size cards for compatibility, some 4 GB cards may work others may be incompatible at this time.
While the SD slot does support SDIO accessories, Wi-Fi via a SD card is still not supported. This appears to be a limitation of Garnet, though one can hope for an unsupported, unofficial work-around someday. Palm claims you won't have a need for Wi-Fi if you have an always on EVDO data plan. So we are likely stuck with Wi-Fi expansion sleds for the time being.
The 700p also has Bluetooth v1.2. This allows for wireless accessories such as GPS navigation kits and wireless Bluetooth headsets. The v1.2 spec allows for faster device connections and adds the ability to use more that one Bluetooth device at once. For instance, you could keep a headset connected at the same time you have your Bluetooth GPS running.
700p Software
The Treo 700p runs the Palm OS Garnet operating system v5.4.9. While this is still the same Palm OS Garnet core, there have been a number of improvements to the Palm Treo platform that extend the functionality and multimedia capabilities of this device.
Palm has made a number of improvements to the overall device software including substantial tweaks to Garnet's tried and true interface. I will briefly address additional device improvements in subsequent areas of this preview and definitely in greater detail within the final 700P review.
First off, there is a new UI for many of the built in applications. Instead of the classic Palm OS title bar, some applications include a full width blue title bar, that looks like something more out of the Mac OS Aqua theme. A few icons have been updated including the shortcut command, which appears in the application menus. Instead of the classic command stroke, the shortcut icon has been updated with the more appropriate menu key icon.
Many of the built-in applications have been updated. The photo viewer has been improved and now displays large photos and thumbnails much quicker. There is finally a voice recorder built in as well. Documents to Go v8 is now built into the device rom and includes native Microsoft Office (Word, Excel and Powerpoint) file support and PDF Files.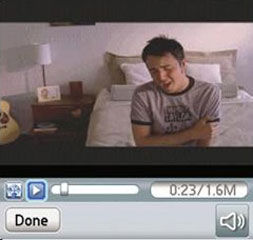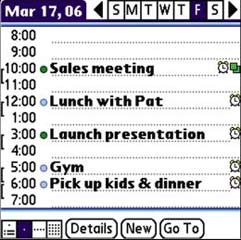 Multimedia
The 700p has an impressive set of new multimedia capabilities for a Palm device. Both video and audio streaming over the Internet is now built in. Thanks to the high-speed EVDO connection and software powered by Kinoma you can now stream Windows Media player type Video and audio to the device with no additioinal third party software.
For instance you can now navigate to npr.com in the Blazer browser and click on the live audio link and it will take you to the media player and start streaming NPR's live radio feed. You could also visit a movie preview website such as netflix.com and watch the streaming movie trailers on your Treo.
Pocket Tunes is included on the device for MP3 digital audio and music playback. It features a new skin that resembles the new Treo UI and is a big improvement over the old RealPlayer. Owners will have an option to upgrade to Pocket Tunes Deluxe for WMA/PlaysForSure support to subscribe to DRM digital music stores such as Yahoo and Napster.
Internet Web and Email
Blazer v4.5 is included for browsing the web. Blazer has been enhanced with new caching rules that make browsing both mobile device optimized and full size websites a more pleasant experience. Instead of having to refresh and reload the entire page each time you exit the browser or use the back and forward buttons, the page is reloaded from the device cache. This enables much faster navigation and rendering when browsing the web or jumping from the browser to another application and back.
They have also improved JavaScript support, which increases the number of sites accessible and usable on the device. The browser is also better at loading and navigating larger non-mobile webpages. The faster EVDO data connection will allow you to download and load large pages and files in much less time.
For email VersaMail v3.5 is included. It features the usual POP3 and IMAP email support including built in settings for Yahoo Mail, AOL and Gmail. There have also been some improvements to addressing by way of remembering recent e-mail addresses. New sorting options and improved page scrolling are also present. It also includes the ability to sync with a Microsoft Exchange 2003 server, for email, calendar and contact sync. AutoSync can also be scheduled for any combination of email, calendar and contacts.
Phone Features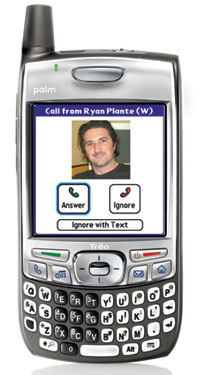 The phone of the 700p uses a CDMA radio (850/1900). Being a CDMA device, the Treo 700p can access high speed EVDO wireless data networks and can fall back on 1xRTT connection when no EVDO is present. Current EVDO speed average around 300-600 kbps, depending on your signal and location.
Palm is not saying at this time if a possible GSM/UTMS version of the 700p will be made.
You can use the Treo 700p as a wireless modem for your laptop or desktop computer. Palm now includes an easy to setup DUN (dial up networking) connection that can be used over Bluetooth or with the USB cable. The included USB cable will now also trickle charge the device so you don't have to worry about draining the battery when using it in DUN mode. Not all carriers may support this feature, and some might even require you to purchase a additional DUN data plan.
There are also some new features on the Phone side of things. Palm has brought the popular "Ignore via text message" feature to the 700p. When you dial or receive a call from an unknown number the phone will ask you if you want to add it to a new contact or add it to an existing one. The ringer switch is now a little more flush with the top of the device and will vibrate when you switch the phone into silent mode.
Other niceties include the ability to add birthdays and anniversaries to contacts that will display in the calendar. The screen display will now dim, instead of turning off completely during a call (Palm says this does not impact battery life). You can assign people and ring-tones to groups of callers (family, work, friends etc...). Also, business customers may appreciate a new dialing preset feature that allows you to set the default phone extensions for use with corporate directories.
Pricing and availability for the Palm Treo 700p smartphone will be announced later by Sprint and Verizon Wireless. More info at Palm.com.
Stay tuned for more on the Palm Treo 700p in the upcoming the full review on PalmInfocenter.
Article Comments
(104 comments)
The following comments are owned by whoever posted them. PalmInfocenter is not responsible for them in any way.
Please Login or register here to add your comments.

Only the first 50 comments are displayed within the article.
Click here for the full story discussion page...