Butler Treo Utility Updated
Tuesday, August 8, 2006 1:45:43 PM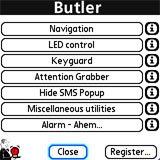 Hobbyist Software has released an updated version of Bulter. The feature rich Treo utility now includes support for the 700p. Bulter gives you control over a number of Treo features and adds a number of additional tools and utilities. It includes mp3 alarms, customized alerts, remote sms security lock and data wipe, button customization and volume key control, an expanded keyguard, LED control and many other features.
Butler v.3.65 comes with a free trial and costs $14.95 to register.
Leave a comment...

Click on the
Start New Comment button
below to begin a discussion.
You must be
registered
and
logged in
to add comments.