CorePlayer Updated for Palm OS
Monday, November 27, 2006 1:13:01 PM
CorePlayer, the new and improved commercial successor to TCPMP, has been updated for Palm OS devices. The update includes improved 5-way navigation, major bugfixes some UI changes and a number of smaller updates.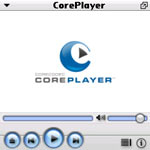 CorePlayer is a advanced multimedia player that handles a wide variety of video formats. CorePlayer is compatible with a wide range of video formats including DivX, H.264, mpeg-4 and much more. The program also includes a MP3 and AAC audio player with support for album art and enhanced podcasts. It also includes support for skins and streaming media support.
The full list of changes includes:


ersion 1.0.4 (20061125): 
- Add: Mobile: Support for older versions of Windows CE (4.1, 4.2, etc.)
- Add: Mobile: Hot key management
- Add: Change the button, check box, folder and top bar bitmaps in the default skin
- Add: Media properties will now only show populated tags to save space
- Add: Total frames played, dropped frames and average FPS in the Media Properties
- Add: Playlist manager: You can now add/remove/move up/move down/crop the selection
- Add: Playlist manager: You can now load and save playlists
- Add: Profile management for color and equalizer settings
- Add: Color management moved to show video window during modifications
- Add: Color management added 'profile' support
- Add: Equalizer added preset and custom profile support
- Add: Color and equalizer settings moved from Properties dialog to Player view
- Add: Keyboard navigation in Properties dialog
- Add: Windows: 3D UI Skin
- Add: Windows: Phase one Skin switching (Player closes and reloads the new skin)
- Fix: Mobile: Buffering issue for Palm
- Fix: Mobile: Device rest bug for Palm
- Fix: The thread priority is only available for multithreaded builds
- Fix: Improve the random number generator
- Fix: Misc internal UI fixes/improvements
- Fix: Menu fixes [Symbian]
- Fix: YUV fixes in the blitter
- Fix: Rare equalizer distortion fix
- Fix: Fix dynamic menus under Windows CE
- Fix: Improve WMA tag handling
- Fix: Various pixel UI changes
- Change: UI buttons for file associations
- Change: Removed redundant XML code to reduce load time and skin size
- Change: CoreUI changes in preparation for the CoreTheque Media Library integration 


CorePlayer for Palm OS is available now for $19.95. There is no trial version at this time.
The program is based on the work of the same development team behind the popular TCPMP mobile video player. It is also available for Windows Mobile.
Article Comments
(7 comments)
The following comments are owned by whoever posted them. PalmInfocenter is not responsible for them in any way.
Please Login or register here to add your comments.