ACCESS Renames Palm OS to Garnet OS
Thursday, January 25, 2007 9:47:53 AM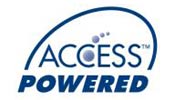 ACCESS today debuted a new ACCESS Powered logo and announced it is renaming Palm OS to Garnet OS. The new ACCESS Powered logo replaces the Palm Powered logo and is now used with products from both ACCESS and PalmSource, Inc. (now known as ACCESS Systems Americas, Inc.).
Last October (2006), ACCESS announced that its wholly owned subsidiary, PalmSource, Inc., had begun the process of changing its name to ACCESS. As part of that process, along with its previously announced agreement with Palm, Inc., to sell PalmSource's rights in the Palm Trademark Holding Company to Palm, ACCESS is renaming all products that originally had Palm-based names. The first product to be renamed is Palm OS, which is now known as Garnet OS.
Last December, Palm Inc purchased a perpetual license for the Palm OS Garnet source code. Under terms of the agreement, ACCESS has granted Palm specific rights to modify the code base of Palm OS Garnet for use in its devices such as the Palm Treo smartphone family and the company's other handheld computers. The agreement also grants Palm the right to use Palm OS Garnet in whole, or in part, in any product from Palm and together with any other system technologies.
The new ACCESS Powered logo identifies this wide range of products available worldwide. ACCESS customers may include the ACCESS Powered logo on their ACCESS compatible devices, either on the hardware itself, or on splash screens. Featuring four spheres emanating from the word ACCESS, the logo is a metaphor for the technologies and products ACCESS generates, incubates and releases to the world. The dynamic arc crowning the logo with the "Powered" element forming the foundation symbolizes the power contained within the product. Together these elements represent the technologies, products and industries ACCESS empowers.
"The new ACCESS Powered logo provides a way to easily identify those mobile phones and other devices that include software from the entire ACCESS product portfolio." stated Tomihisa Kamada, ACCESS co-founder and CTO.
"ACCESS and PalmSource continue to move forward as it becomes one fully integrated company," continued Kamada. "The new ACCESS Powered logo that encompasses ACCESS product offerings, and renaming Palm OS to Garnet OS are two more milestones in our evolution as a leading provider of a range of technologies, solutions, platforms and products specifically designed for the mobile phone and converged device markets."
Article Comments
(160 comments)
The following comments are owned by whoever posted them. PalmInfocenter is not responsible for them in any way.
Please Login or register here to add your comments.

Only the first 50 comments are displayed within the article.
Click here for the full story discussion page...