Treo 750 Review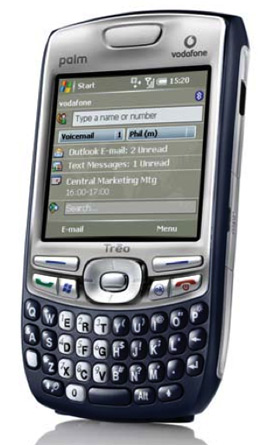 By: Tim Carroll
September 17, 2007
First known by its internal codename 'Hollywood', the Treo 750 is Palm's second Windows Mobile device. It was officially announced back in September '06 in collaboration with Vodafone, one of the world's biggest and best-known carriers. The device broke new ground for the company on several different fronts: it was Palm's first serious push to broaden its international install base, and was heavily marketed with contributions from both Microsoft and carrier partners. It was their first 3G UMTS device, filling a gap that creaky ol' Palm OS Garnet is technically incapable of covering. And it marked the debut of the Treo's now-standard slimmer, antenna-free form factor. Premiering exclusively on networks across several European countries, you can now find the Treo 750 on 3G carriers worldwide, from the desert backwaters of Australia all the way through to the U.S. of A.
Alrighty then. History lesson over! Let's get to work. Is it a decent smartphone or not? Grab a gun, develop a bad attitude and start the dramatically ticking clock as we go Jack Bauer on the Treo 750 with PIC's in-depth review...
Look & Feel
Or, "It's not fat! It's just big-boned!"
The Treo 750 was the first to feature Palm's aforementioned antenna-less chassis design. Compared to similar QWERTY-equipped phones, the 750 is slightly narrower but noticeably thicker. Exact dimensions: 111 mm x 58 mm x 22 mm (4.4" x 2.3" x 0.8" inches), weighing in at 154 grams (5.4 ounces). The standard casing comes in a highly attractive shade of Midnight Blue that gives it a cool buttoned-down "corporate" look, as opposed to the bland grey of the Treo 650 or the multiple "look at me, I'm FUN!" colours of the Treo 680. Also worthy of mention is the natty "invisible" LED: it's cleverly camouflaged by the silver finish around the screen and is only observable whilst illuminated.
Layout
The face of the 750 is little-changed from its predecessors. You have the standard earpiece speaker at the top, underneath which is the square colour touchscreen. Below the screen on either side of the 5-way navigator are two softkey buttons, whose function dynamically changes depending on the application. Next down are the four hard buttons: there's the Send/Pickup button which pulls double-duty as a shortcut to the Today screen, the Start Menu button, an OK button and the Hangup/Ignore button which also controls power on/off.
Along the top of the device is the Treo's trademark (well, until the Treo 500v arrived) and superbly convenient silent switch. The standard IR window has been relocated to the right-hand side of the device with the reset button and miniSD slot, which is a little fiddly to open but otherwise fine. On the left are the volume up/down keys and one stand-alone button. Bringing up the rear are the speaker grille, camera, self-portrait mirror, stylus silo and external antenna port, which is capped with a black rubber plug.
Feel
Coated with grippy soft-touch paint, the Treo 750 feels great in the hand and doesn't constantly threaten to slide straight out of your sweaty grip, as the 6xx varieties do. When you set it down, it (generally) stays put. There are disadvantages here: just as it doesn't slither out of your hand, neither does it slide into your pocket or a case as easily as other Treos. But overall it's a notable improvement.
And speaking of nice improvements, the 750 displays excellent build quality. Compared to my lower-cost Treo 680 – which shares the same basic design - the 750 feels more solid: for instance, the grey plastic runners that sit on either side don't exhibit the same tendency to creak and flex when held tight. Similarly, the miniSD slot cover is firmer and less floppy than that of the 680. The buttons, too, feel nicer: they have a more satisfying and springy click that invites you to press them over and over again just for the hell of it. This applies to both the hard buttons and the QWERTY thumb board. The backlighting is also of superior quality: it's bright and even all over. Even the stylus is a cut above the 680's: it's sturdier and slides in and out of its silo like a well-lubricated d- erm, like a... well-designed stylus.
As with all Treos, it really wouldn't hurt the 750 to put in a bit more time on the treadmill. In this fickle, fashion-conscious world the 750 is just that little bit too fat for its design to draw Oos and Aahs. Otherwise, it's quite an attractive unit and certainly doesn't scream "DORK!" to onlookers, as is the unfortunate habit of larger smartphones and people who wear sweater-vests.
Hardware
Or, "Let's Do The Time Warp Again..."
The Treo 750 is powered by a 300MHz Samsung CPU that, while not spectacularly snappy, gets the job done. Occasionally, you'll wish it had something a little more capable of keeping pace with the 3G radio, which often pulls down data and web pages faster than the processor can render them. Unlike Palm's first Windows Mobile device – the underpowered 700w - the 750 features 128MB of RAM with 60MB of storage available to the user, which means that you can run more programs simultaneously without slowing things down to a crawl. It also has a miniSD card expansion slot which officially accommodates capacities of up to 2GB.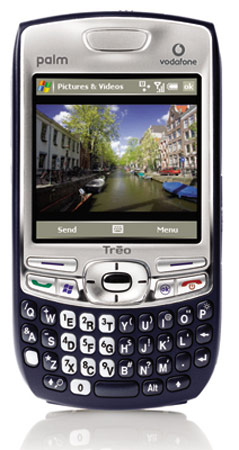 Display
Display-wise, the Treo 750 totes the same square screen as earlier Treos: it's a 16-bit, 4.4 x 4.4 cm (1.7" x 1.7" inch) TFT touchscreen with support for up to 65,000 colours. Unlike Palm OS Treos, it runs at a relatively low resolution of 240x240. Coming from a 320x320 device, the difference was immediately apparent: fonts and pictures are all slightly grainier and video is also of lower quality. (ClearType can be enabled to fix the font issue, but bizarrely is not enabled by default.) It doesn't impress and merely sits on the same level as regular phones. But on the bright side (ho-ho!) it is very bright, clear and easy to read under all types of lighting conditions. Except, perhaps, from within the infernal nuclear hellfire of a main-sequence star, in which case screen brightness would really be the least of your concerns.
Phone / Data
A true world phone, the Treo 750 features a five-band GSM/GPRS/EDGE/UMTS/HSDPA radio, running at GSM frequencies of 850/900/1800/1900 and UMTS frequencies of 850/1900/2100. It's 3G and by default will access UMTS and (with a software upgrade) HSDPA networks. When such coverage isn't available, it will fall back to poky GPRS/EDGE data speeds. I put it through four speed tests, via dslreports.com, and the results with a 1MB file were...
Test 1: 395 kbps
Test 2: 425 kbps
Test 3: 321 kbps
Test 4: 415 kbps
... making for an average speed of 389 kbps. Of course, this will vary from user to user, depending on such factors as cellular coverage and whether or not you're stationary. Interestingly, the lowest score of 321 kbps occurred whilst I was downloading an incoming MMS on another phone: it seems that speeds will drop if it has to compete with other radios for airspace. The message to take home, however, is that it's fast, and makes the Internet experience much more enjoyable than on 2G devices. Streaming media? You bet your ass!
Phone performance was excellent. Voice quality was very good, and at the maximum level earpiece volume is ear-shatteringly loud – personally, I kept it at only two notches above the minimum and was more than satisfied. In noisy environments you'll have no trouble hearing whoever's on the other end. The speakerphone is similarly loud and seemed much clearer than my Treo 680.
The SAR score, however, leaves a bit to be desired. SAR (Signal Absorption Rate) is a measurement of how much signal radiation is absorbed by your head when the phone is held up to it. While not as dangerously radioactive as the Treo 650, which at a score of 1.51 W/kg had a tendency to leave your ear an eerily luminescent shade of green, the 750 still doesn't impress with its score of 1.26 W/kg. In contrast, the Treo 680 has a score of 0.78.
Camera
Sporting a 1.3 megapixel camera, the 750 is a welcome cut above other GSM Treos, which ship with woeful VGA cams. But it still lags behind the rest of the camera-phone pack, where resolutions of 2 and 3 megapixels are now commonplace. The camera is a little awkwardly placed: positioned as it is next to the speakerphone grille, you have to be careful not to obscure the lens with your finger. Picture quality is average; as is typical for cellphone cameras, it doesn't perform very well in low light and doesn't focus well either (as you can see from the example shot of my Treo collection). Under the right conditions, pictures are bright and colourful but a little short on fine detail. It's adequate, nothing more.
But if picture quality is only adequate, then video is shocking: limited to a maximum resolution of 352x288, videos are horribly pixelated and generally just not worth taking. In addition, the audio is nearly always too quiet: you'll have to turn your speakers way up, even to hear people standing right next to the mic. It's nice to have the option to do video, but at this level of quality it will be rarely used.
Below are four unedited example shots taken under various lighting conditions: one outdoor shot of my dog Jack on a bright & sunny afternoon; one taken indoors at the somewhat dim local Mexican restaurant; one of my ever-expanding Treo collection under bright indoor lighting; and one of the now-infamous Walls of Police at the recent APEC summit in Sydney, on a gloomy overcast day. I also took a short sample video starring the world's biggest smart-ass, my 10-year-old half-sister Nicola.
Bluetooth & Audio
Like most other Treos, the 750 features Bluetooth v1.2 which allows for multiple simultaneous connections and improved performance, but is a generation behind the new Bluetooth 2.0 standard. Performance was superior to that of my Palm OS Treos: it sounded better on phone calls, there was less static on the connection and I could use it from longer distances before it began to cut out. Also kickin' Palm OS to the curb, A2DP stereo support comes standard, meaning you won't have to resort to unstable third-party solutions like Softick Audio Gateway to get your wireless music on. However, audio quality is nothing to write home about: almost any pair of wired headphones will yield a superior result, unlike SAG, which is now on a par with tethered solutions. It should also be noted that using A2DP will result in a significant performance hit: you'll pay a heavy price in interface lag for the convenience of wireless audio.
The 750 also has the much-bemoaned standard 2.5mm headset jack and monaural rear speaker, which both work as well as expected. Included in the box is a decent pair of stereo earbuds with an in-line mic for hands-free conversation. Callers reported that it sounded just fine, with no obvious echo or clarity issues.
Battery
Battery life has long been the bane of smartphone owners, and things have only gotten worse as manufacturers have slimmed them down. Like the Treo 680, the 750 ships with a slim, lightweight, removable 1200mAh battery. Also like that device, it'll only net you around 4 hours of heavy usage before cutting out. Palm makes the hilariously... optimistic... claim that you'll get 250 hours of standby usage. Recent Palminfocenter battery tests put the lie to that: in reality it's more like 84. It's adequate, but also disappointing that Palm couldn't shoehorn something a little more powerful in there as they did later on with the Treo 755p. Fortunately, third-party accessory makers offer several different extended battery options. It's also important to note that there is not one smartphone on the market that offers more than a day's worth of heavy usage – in fact, many have even less than that – so the 750 is hardly alone in this respect.
QWERTY Thumb-board
As is standard for the Treo line-up, the 750 sports a full QWERTY keypad. Unlike so many other manufacturers, Palm has not succumbed to the desire to trade looks for functionality: the keys are neatly domed with no weird shapes or ridges to play havoc with touch-typing; there's a small gap between each key that helps prevent mistakes; and the button resistance is nigh-on perfect: not too firm, not too soft. However, it's not quite as comfortable as that found on wider devices like the standard Blackberry. On first sight many people have a moment of "QWERTY shock" and wonder just how usable such dinky little keys could be. The answer, surprisingly, is "very": if you're a proficient typist then you'll be burning up the thumb-board in no time and after a few weeks of getting to know it you'll even find yourself beginning to touch-type - although it'll obviously never be as fast or as accurate as a full-size keyboard. Generally, I average 37 WPM and 90% accuracy.
SPECIFICATIONS

Size & Weight:
4.4" x 2.3" x 0.8" inches (111.7 x 58.4 x 20.3mm); 5.4 ounces (154g)
Processor:
300 MHz Samsung CPU
Operating System:
Windows Mobile 5.0 Pocket PC Phone Edition with Direct Push
Memory:
128MB / 60MB persistent user storage, non-volatile flash
Expansion:
miniSD slot
Screen:
240x240 pixel; 65k-color; transflective back-lit
Audio:
2.5mm jack; monaural rear speaker, polyphonic MIDI, MP3, WAV & video ringtones, Bluetooth A2DP
Power:
Replaceable Li-Ion Poly (1200 mAh)
Connectivity:
GSM/GPRS/EDGE/UMTS radio, GSM bands 850/900/1800/1900, UMTS bands 850/1900/2100, 'Athena' Multi-Connector, IrDA, Bluetooth v1.2
Software
Or, "It's Windows On Your Phone! ...uh...great! (mutter)"
Operating System
The Treo 750 has one of the longest operating system names of all time: was Microsoft trying to win a contest or something? It's called (deep breath, now) "Windows Mobile 5.0 Pocket PC Phone Edition with Direct Push Technology". Windows Mobile is becoming increasingly popular in both corporate and consumer circles, and that popularity is mostly deserved: it multitasks; it supports all the latest hardware; and it offers performance on a par with - or sometimes better than - rival mobile operating systems. There's a wide range of software available and it's reasonably customisable.
Palm has also bolted on a number of thoughtful enhancements designed to make it a better phone: the so-called "Palm Experience on Windows Mobile." What this "Experience" amounts to, essentially, are some well-designed Today screen plugins, an excellent threaded SMS/MMS messaging system and one-handed navigation improvements meant to save you the trouble of busting out the stylus. As welcome as they are, these additions are still not enough to make Windows Mobile as user-friendly or as elegantly simple as Palm OS. Extra steps are required for nearly every comparable function. Part of this is due to the fact that it's more powerful and thus has more options, but the rest is just plain bad design. The most egregious example is the two utterly useless softkey buttons. Riddle me this, Palm: since the unnecessarily huge softkey bar is ever-present across the entire OS, why have you wasted two perfectly good buttons on it when you've got a frickin' touchscreen right above them that can do exactly the same task? It's disgracefully wasteful.
And speaking of wastefulness: if screen real-estate was a natural resource, Microsoft HQ would be besieged by picket lines of smelly hippies environmental activists. Everywhere you look there's wasted space, or the improper use thereof. An obvious example hits you straight away on the Today screen: three lines of text are devoted just to email, messaging and the calendar. Palm OS makes do with two small icons and one line of text, respectively. Such examples of needless clutter abound all throughout the OS.
In the two weeks I was using the device, I experienced only two crashes: once, it refused to wake up after going to sleep, and another time it froze on the Today screen. Coming from Palm OS 5 - which crashes just about every other day with heavy usage - this was quite refreshing and a nasty reminder of just how far behind the times Palm OS has fallen. The 750 also has a reset button conveniently hidden under the miniSD cover, meaning no fumbling with the battery when the rare need to reboot arises.
Finally, as the (ridiculously long) name suggests, this particular edition of Windows Mobile also ships with Microsoft's Direct Push technology. Direct Push is meant to be a shot across [Blackberry maker] RIM's bow: it plugs in to corporate Exchange servers and offers near real-time delivery of email along with over-the-air synchronization of your calendar events, contacts and tasks. It's an excellent addition for the corporate warrior (whom the device is aimed at) but makes little difference for the average user.

Today Screen
The Today Screen is your mobile command centre. Accessed via the green Phone button, from here you can speed-dial and search contacts, toggle Bluetooth, access your emails, text messages and calendar events, and perform quick web searches. There's quite a bit of functionality packed into this little screen, but it comes at a cost. It feels cluttered and like many Windows Mobile devices wastes too much screen space, resulting in unnecessary scrolling. You have a few different methods available for dialing: you can tap out a few letters of a contact name; you can use the dial pad (accessed via the softkey menu); you can add text speed dials; or (my favourite) you can use a cute little row of photo speed dials. The biggest problem is that the photo speed dial doesn't "wrap": once you get to one end, you need to wade your way back through all the pictures to get to the other.
Also worthy of mention are the excellent onscreen Voicemail controls: you get a selection of onscreen icons to fast-forward, play, rewind and save messages that makes for navigation like a sweet summer breeze.
Email
I'm not a particularly heavy mobile email user, preferring to communicate via SMS or voice, so it's difficult to go into great detail here. The Treo 750 ships with Pocket Outlook, which had no problems accessing my Gmail account via POP. There are a few irritations: chief amongst them is that you cannot set the interval between server check-ins any longer than 60 minutes. If you're like me and have no particular need to check email more than once or twice a day, this just makes for wasted battery power and unnecessary data charges. However, it's important to remember that this device is aimed at business users who need instant, reliable email. In this respect, the Treo 750 performs just fine.
Messaging
Like Palm OS Treos, the Treo 750 includes a threaded SMS client that organises your messages into an IM-style chat view. It really is a brilliant innovation and I'm truly shocked that after all these years, only one other company has bothered to copy it (hello, Apple!). Unlike Palm OS, Windows Mobile has a handy predictive text feature that learns your favourite words* the longer you use it and suggests them via a small box that pops up underneath the text line. But this neat feature is undermined by a less intuitive one-handed navigation system: you can only scroll message-by-message, with no option for page-by-page, which makes for disconcerting 'jumps' when trying to read a whole conversation. You can't access the emoticon or Quicktext menu one-handedly either. Overall, however, it's a far superior solution to that found on nearly any other phone and to this day remains my favourite Treo feature.
*Somewhat disturbingly, it only took it less than a day to learn I'm a heavy user of the word "f*cking" and began suggesting it as soon as I got as far as "fu". It can be embarrassing if you lend your phone to someone else who tries to type "fun"...
Internet
Standard to all Windows Mobile devices is the Pocket Internet Explorer web browser. Much like Palm's Blazer, Pocket IE will attempt to optimize web pages for the small display. More than any other application, Pocket IE is let down by the 750's low resolution and lack of screen space. However, there is a handy full-screen mode that dispenses with the status bar and softkey menu. It does compensate a little, but overall it's still a bit of a letdown. This is all the more disappointing because of the fast data connection that really does make you want to use the 'net more often.
There are two saving graces, both thanks to WinMob's robust multitasking: one, you can quickly jump back and forth between the browser and other applications without having to re-render pages, as is the case with Palm OS. And two, you can download files in the background while you surf. Very handy.

Media
With a built-in pocket version of Windows Media Player, you'd expect the 750 to offer a pretty comprehensive media experience, right? Wrong. While it does a great job with streaming media and video playback, it only offers support for a limited number of file formats: specifically, WMA, WMV, mp3 and 3g2. In addition, sound quality leaves a lot to be desired: it's not up to the standard of Palm OS' built-in Pocket Tunes and not a patch on a dedicated mp3 player like the iPod. It's even worse if you're using A2DP; there's muddy bass and poor sound seperation. Library navigation is also somewhat unintuitive. Fortunately, there are plenty of alternatives available, such as CorePlayer.
On the other hand, the built-in photo viewer is great: it has a very handy zoom feature that insets a small thumbnail of the full image and makes navigating large pictures a snap. If only it had a higher-res screen...
Mobile Office
The Treo 750 includes stripped-down versions of Microsoft Office's most popular applications: Word, Excel and PowerPoint. All of these are quite well-designed and easy to use – in fact, parts of this review were edited using Pocket Word – but ironically, Microsoft's own mobile office programs are not up to the standard of the third-party Palm OS office suite, Documents To Go. They're not as fully-featured or quite as user-friendly. Nevertheless, they're very handy to have and thus welcome inclusions.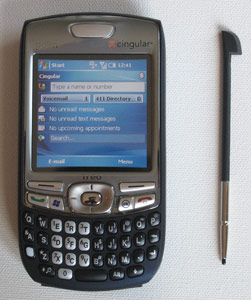 Contacts & Calendar
I'll be brief: they get the job done, but Microsoft's Contacts and Calendar applications are nowhere near as simple or intuitive as their Palm OS equivalents. For instance, you can't search by initials in Contacts. And for some bizarre reason the Calendar displays a blank field for every single hour of the day, despite the fact you're unlikely to be planning appointments at 3 in the morning. This means yet more unnecessary scrolling. In addition, the creation of new events and contacts is hampered, once again, by the lack of screen space and low resolution.
Telstra-Specific
This one's just for us Aussies (sorry, U.S. readers). My review unit came with a SIM for Telstra's Next G UMTS network. I live out west of Sydney and make a daily commute via train to Parramatta, and also made a trip into the city last weekend. 3G coverage was excellent and I did not run into any dead zones, even in spots where my Optus-connected Treo 680 would consistently drop out. Perhaps there's some substance to Telstra's constant bragging about their nation-wide coverage after all...
The Telstra Treo 750 also ships with a Start Menu shortcut to a Bigpond "My Place" page. From here, you can access a number of Telstra services, from WhereIs maps to the Yellow Pages directory to the Bigpond Music service, where you can download music videos and songs for a nominal fee. Most impressive of all is the Foxtel page, which gives you streaming access to the pay-TV service's more popular news and entertainment channels, including CNN, SKY News, FOX8, The Comedy Channel and MTV. Video quality isn't terribly fantastic but you're not really going to notice on the small screen anyway. It's a great little time-killer and beautifully simple to access.
Irritatingly, the Today Screen web search field is locked to a Telstra-branded search engine. While it's pretty decent and thoughtfully pulls up results from all of Telstra's web services, including the Yellow Pages and WhereIs, it would have been better had you been given the option to use Google, Yahoo! or another search engine of your choosing. There is an alternative in Gx5's UltimateSearch, but it costs extra.
Conclusion
Palm have a lot to be proud of in the Treo 750. Sure, the hardware's a little outdated. The standard Treo form factor has seen distressingly little change over the years. And Windows Mobile has its... quirks. But overall, it's an extremely versatile device that can, out of-the-box, handle nearly anything you throw at it (except perhaps a house brick), and the wide variety of third-party software available makes it endlessly customisable. For the corporate user it's easily one of the best mobile solutions currently available and comes highly recommended.
All of that said, it was with a small feeling of relief that I packed it back into the box to go back to Palm. Sure, it's powerful. But it was lacking that most crucial element of all: fun. Me, I'll be sticking with Palm OS. For now.
The Treo 750 is currently available worldwide via Palm and their wireless carrier partners. This review was done with an Australian unit, which is available from Telstra stores and online at www.telstra.com.au for $0 upfront on a new $80 Telstra Business phone plan for 24 months or $1,199 AUD including GST.
Author's note: In the coming weeks, we will also review the recently-released free Treo 750 Windows Mobile 6 Upgrade.
Article Comments
(20 comments)
The following comments are owned by whoever posted them. PalmInfocenter is not responsible for them in any way.
Please Login or register here to add your comments.