Palm at CTIA Wireless 2008
Wednesday, April 2, 2008 12:02:35 PM

PalmInfocenter is on the scene at the CTIA Wireless show going on this week in Las Vegas. Palm is not exhibiting this year and does not have a booth at the conference, however they were present at MobileFocus, a smaller scale press only event.
Read for our report from the show and checkout what Palm was showing at the event.
Palm had a table setup at MobileFocus a Pepcom press event. This year MobileFocus was held at the Las Vegas Bellagio hotel. The event itself has about 50 or so companies showing off their various products and recent announcements to journalists.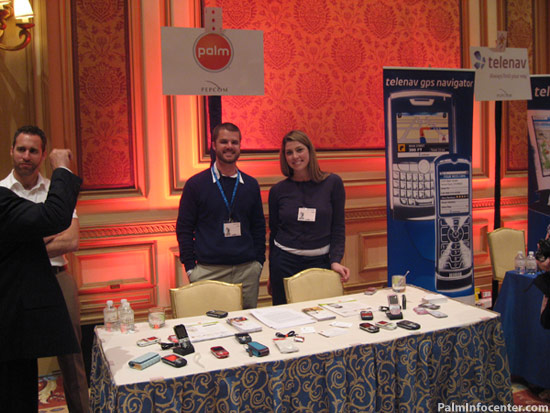 Pictured above is a shot of the Palm booth. On the far left looking away from the camera is Rob Katcher, Senior Product Manager, Smartphones at Palm. Rob is responsible for Palm's Centro and Treo 755p product lines. The two smiling faces are Alex and Sara of Palm's PR team.
Palm had no major announcements or new products to show off, other than the One-millionth Centro sold news, and was thus showing off the current line along with some accessories. Palm has an assortment of Centro's on display including the Pink version and the newly available obsidian black at&t Centro. Palm also had a couple of Treo 755p's on the table including the greenish Verizon model.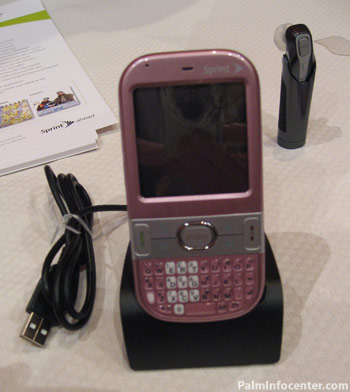 Palm also had a couple of accessories on display but nothing terribly new or interesting. Pictured above is a usb Centro cradle.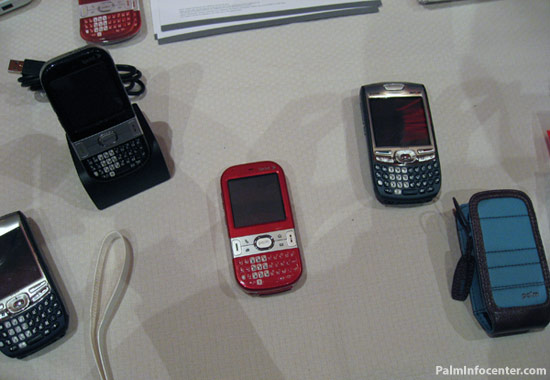 Palm also had a few Centro cases on display including the Dooney & Bourke Centro Wristlet (Pictured in light blue), the Golla Calla Pouch for Centro and the Palm Slip Pouch with Lanyards for the Centro (pictured in teal and brown.) Palm was also showing its latest Bluetooth headset.
In other news we couldn't get a word out of Rob about anything on Nova, other than what Ed Colligan has previously stated. Sprint let loose in a press release that it would be offering a new Windows Mobile 6.1 powered Treo this summer, but of course Palm would not comment further on that. Palm also isn't saying whether it will provide an update for its current Windows powered models.
Article Comments
(34 comments)
The following comments are owned by whoever posted them. PalmInfocenter is not responsible for them in any way.
Please Login or register here to add your comments.