Interview with Pandora About Developing for WebOS
Tuesday, January 13, 2009 5:19:30 PM

Tom Conrad has a long history in engineering and product design: he's led teams that have worked on everything from operating systems to video games, including the fondly-remembered PC classic You Don't Know Jack. Currently the Chief Technical Officer for Pandora Internet Radio, Tom's in a unique position to offer insider opinion on the development and capabilities of Palm's new WebOS and Pre smartphone, having worked with the company on these products for a number of months now while creating a version of the Pandora player for webOS. On Monday he generously gave up some of his time to talk to Palm Infocenter about his experiences with Palm's new baby and the development process.
Hit the jump for the interview transcript, or listen to the audio.
Interview Audio Stream (13:48)
Pandora Interview Transcript
PALM INFOCENTER: This is Tim Carroll for PalmInfocenter.com, and I'm talking with Tom Conrad, Chief Technology Officer of Pandora Internet Radio. How are you doing, Tom?
TOM CONRAD: I'm doing very well thanks.
PIC: Great. Alright, so, first up – how long has Pandora been working with Palm on the webOS?
TC: Well, you know, we've had conversations with Palm [since October] - [...]
[thanks to a technical glitch on my part, the first thirty seconds of this answer were lost – Tom tells us that Palm approached them in October, selling Pandora on webOS. A series of meetings followed, where Palm told them about the proposed development model. Following that came-]
[...] an invitation for us to come down to Palm, the week before Thanksgiving and participate in a sort of sneak-preview developer "camp", where we got our hands on a very early version of the development tools, and spent three days on-site with them, developing the first version of Pandora for what would become the Palm webOS.
PIC: That sounds almost like a summer camp for code...
TC: [laugh] Yeah, it really was...
PIC: Did they hook you up with guidance counsellors?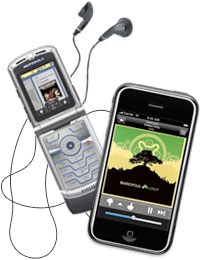 TC: Yes they did, yes they did. We made lanyards and sang songs around a campfire and wrote software...
PIC: ...trust exercises...
TC: Yeah.
PIC: So what was that experience like?
TC: When things really started to get interesting was about a month later, just before Christmas, they invited us down again to give us a preview of the phone itself. At the developer camp, we'd just been working on Macintoshes running a kind of emulator for the new OS. So we hadn't seen any of the details about the phone they're now calling the Pre. And so on this second visit, we got ushered into a conference room and after a bit of pleasantries they unveiled a prototype of the Pre. Which – I don't know if you've been able to hold one in your hand yet-
PIC: Not myself, unfortunately...
TC: -It's fantastic. It's a really, really well-designed piece of hardware, with a bunch of thoughtful decisions, from the slide-out keyboard to the removable battery... the camera has a flash... whole thing has a really nice sort of size and heft and feel to it... you open the keyboard up, it sort of pivots a bit so the phone itself has a kind of curve that matches the curvature of your face when you hold it up for a phone call... it's just a lovely piece of hardware.
PIC: Yeah, it sounds great. Was the prototype they showed you – was that the same one they unveiled at CES?
TC: Yeah, it's the same device, although even in the few weeks that passed they'd received another round of engineering samples from their hardware provider and they're making nice progress on it – y'know, continuing to polish and refine all the little details.
PIC: Right, right, obviously still a few months until release... so what's Pandora's take on their approach? I mean, they're going for this whole "synergy" thing where the OS integrates with the Internet quite heavily. Some people have been saying "Oh, you know, it's just web apps", that kind of thing, but other people seem to think that this is going to be some kind of new paradigm in mobile design. So what's your take on it – what's your thoughts on that?
TC: Well, I think one of the important little nuances here to understand is that you might think from the name "webOS" and from the technologies used – HTML and CSS and Javascript – you might think that this is the whole thing, just kind of a fancy web browser, and that you're – y'know, any interaction you take is interacting with web content. That's really not how it works at all. What you really have, is that you have an environment where a developer can write a traditional application – so, an application that gets installed onto the phone with all its code and all of its user interface elements and that is actually local to the phone. There's also a database and file storage that allows you to take data from the internet connection and store it locally – so when you're browsing your contacts, for example, you're interacting with an application that's local to the phone, with interface elements that are local to the phone and with contacts that are actually sitting on the phone.
What makes it this "webOS" is that the programming models for your developer rather than being C or Java is really just HTML and CSS and Javascript. So you can take a developer who's been developing web applications and quickly get them productive in the webOS SDK, leveraging their familiarity with these web-based standards. And that decision is one of the reasons we were able to get, very very quickly, a version of Pandora up and running. We were able to take one of our star web developers – someone who has never touched the Palm webOS and not done mobile development before – and have that person be immediately productive because it's all based on systems that they're familiar with from web development.
PIC: That sounds really great – yeah, Ed Colligan specifically mentioned you guys on stage at CES and said you had a great experience working with it. So did your developer work with the Mojo SDK?
TC: Yeah, we're definitely playing with Mojo as part of this and that's another accelerator for developing the user experience of the application, so in addition to having the standard web-based techniques at your fingertips you have Mojo which helps you with managing the layout of the UI and the storage of data and the interaction between the data and your presentation element. It's another great mechanism that ensures that you don't start to reverse principles but rather can build upon a rather rich base.
PIC: So how have you found that Mojo compares to other SDK's? Obviously being in web programming languages there's been some speculation that it's going to be a bit limiting for more, let's say "intensive" mobile applications. So how would Mojo compare to say, SDK's that work using C or C++?
TC: I think that there is a bit of a trade-off there, in fact I think when they first told us about their approach I was sceptical that you would be able as a developer to get a really great user experience with fluid presentation just using HTML/Javascript/CSS and so on in the Mojo framework... but I think for a certain class of application – when you think about an email application, or the contacts application, or something like Google Maps or Pandora – I think all of these classes of applications are really going to be fantastic to build and deliver on webOS. Anything like a medical encyclopaedia – anything sort of data and presentation-oriented I think will be very very easy to develop and have fantastic user experience characteristics. Even for multimedia applications like Pandora.
I think the category of applications that is perhaps the least served by the webOS environment is the kind of really sophisticated gaming type of applications. Not so much things like Bejeweled or Tetris-
PIC: (laughs) Yeah, they're not exactly resource-hogs-
TC: -you can make great versions of those type of casual games, but things that really sort of want to render graphical elements in real time – I think some of those kind of things would be easier to develop in a lower-level environment like C, or objective C like you have on the iPhone for example.
PIC: Palm didn't really mention it, but - the webOS definitely has a Linux framework underneath it, doesn't it?
TC: It does have a Linux framework underneath it and I think it's really encouraging to know that Palm has developed all the standard applications that come with the phone in the HTML/CSS/Javascript Mojo environment. There's certainly the technical possibility that they'll open up another layer of SDK that will enable game development, for example. Or maybe they'll even go to another web technology to make that possible. For example, maybe they would go – and this is entirely speculation on my part – but maybe they would go to Flash for developing the things that might be more difficult to develop using HTML and CSS.
So I think they have lots of options, but for now it seems they're focussed on evangelising the Mojo HTML SDK as the only mechanism, and they'll presumably address other application types in a future release.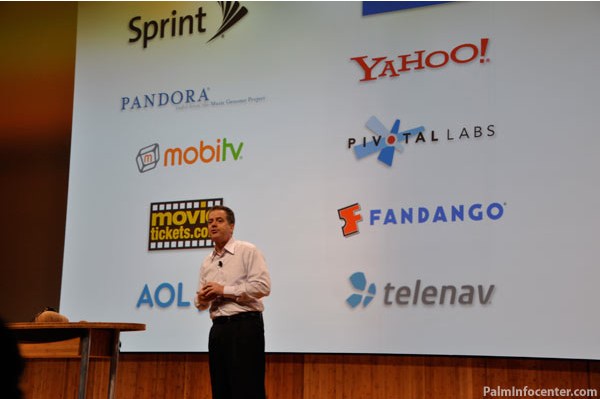 PIC: Early days yet. One other thing I was wondering... are you at liberty to disclose at all who any of those other developers were who were at the webOS summer camp?
TC: I can't talk about the participants at that event, although I know it's public knowledge that Facebook got up on stage at their launch event to talk a little bit about working with Palm to integrate Facebook into the OS itself, so that when you are browsing your address book your Facebook friends show up there, their photos... so we're seeing not only application-style development but third-party integration to the built-in applications in a really interesting way as well. (a whistling sound like a bomb dropping is heard)
PIC: ..... was that a firework going off in the background there?
TC: I am sitting outside at the moment and I think I've got what may be a pre-school next door, so you may hear the delightful chatter of young children.
PIC: (laughs) Right, OK. Well, I think that about wraps up what I was really interested in... one last thing – do you think this will herald a new era for Pandora on mobile? You guys have been sort of limited to the desktop so far, what with the lack of really decent mobile OS's out there – do you think this is going to help you guys get further off the ground at all, expand the business and so forth?
TC: Well, we've actually been working on mobile applications for Pandora for – if you can believe it – for well over two years now. We're on 40 different handsets, everything from J2ME and Windows Mobile to the iPhone – in fact our iPhone application is the most downloaded application in the entire App Store with over 2.6 million installs-
PIC: Pretty impressive-
TC: So we're definitely at a really exciting point in the history of the company where we're able to bring the Pandora experience of rating stations, listening to stations, getting the whole personalised experience with thumbs up and thumbs down and take that off the desktop and put it in your pocket. iPhone I think is a phenomenal implementation of that, and we're very excited about devices like the Palm Pre to let us bring that experience to even more listeners and... I think it's a time of tremendous innovation in the mobile market in terms of what Pandora's doing and what the hardware manufacturers are putting in place. Fun to be a part of it.
PIC: Cool. Alright, last question: do you think this puts Palm back in the game?
TC: I think half the fun of this announcement is that, y'know, it's a fantastic phone and a fantastic OS and the other thing that's fun for is that these guys are such underdogs. And I don't think that anyone went into CES expecting them to deliver in such a compelling way. I can't think of much that's harder in the world than building a modern, mobile operating system and integrating it with a fantastic piece of hardware. We see companies take a swing and miss at this time after time – I really think Palm has hit a home run on this one.
PIC: Great! That's about all I had – Tom, thanks very much for your time, we'll send you a link once this is up on the site. It's been great to hear from you.
TC: Great talking with you.
Article Comments
(79 comments)
The following comments are owned by whoever posted them. PalmInfocenter is not responsible for them in any way.
Please Login or register here to add your comments.

Only the first 50 comments are displayed within the article.
Click here for the full story discussion page...